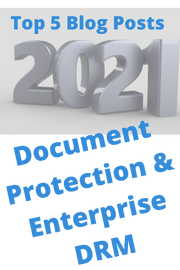 Which blog posts about document security and protection attracted the most visitors to the Fasoo website in 2021?
Let's face it: the ins and outs of Digital Rights Management (DRM) in the enterprise don't exactly make for blog topics that get most people's juices flowing.
The good news is that content that draws on the insights shared by Fasoo's longtime, recent, and not-yet customers can overcome this hurdle. Readers interested in Enterprise DRM clearly prefer blog posts that answer relevant questions and provide hands-on advice for IT decision-makers and their teams.
Which Fasoo blog posts hit a nerve in 2021? These were the Top 5:
*