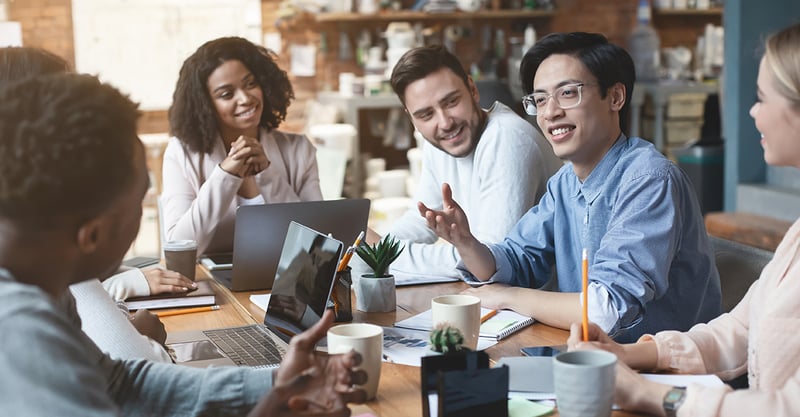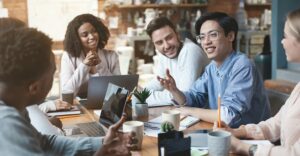 With the hybrid workplace becoming the norm, it's more important than ever that employees, contractors, and business partners have the tools to collaborate effectively — independent of time and place.
While video conferencing and group chats are important to communication, most of the collaboration we do is through documents.  They hold business data and are typically what we use to make decisions.
Team collaboration tools do come with a risk.
How do you know the tools you use to share data, brainstorm ideas, and collaborate are secure?
What is a secure collaboration tool?
Almost everyone has used at least one online collaboration tool at some point.  There are plenty of tools you can choose.
You can communicate with your colleagues from a distance using group chat or videoconferencing with Zoom, Slack, and Microsoft Teams.  You can share documents with Box or Dropbox and share your screen with countless other tools.
Whatever tools you use, you need to make sure they're safe and secure.  Otherwise, you could be putting your entire company at risk.
Companies that provide secure collaboration tools put stringent measures in place to protect your data and ensure they're operating in a way that's compliant with privacy and data security laws and regulations.  A secure collaboration platform is one that you can use in full confidence that your privacy and security are being taken seriously.
Why do companies need secure collaboration software?
Most of us wouldn't leave home with the front door open with our valuables sitting on the dining room table.  But if you are using collaborative tools without checking their security credentials, you could effectively be doing the same thing with your company's data.
Collaboration tools that don't have strict safety protocols leave businesses vulnerable to external threats, such as hacking.  Data breaches can also occur due to human error when users inadvertently share data with the wrong person.
4 key features of a secure collaboration tool
If you're looking for a new tool to help you collaborate effectively with your colleagues from a distance, you need to know it's secure.  So, what features should the tool have?
Here are some of the most important things to look for in a secure collaboration tool:
1. Customizable access controls
Let's start simple.  When you use a collaboration tool to share files and documents, you need to control who has access to them.
And it's not just a question of who can see what.  When you're editing sensitive or important documents, you need to see who makes changes and ensure the editors have the right authorization.
This means that a good collaboration tool should come with the ability to assign different levels of access to different people.  Using Wrapsody eCo, for example, you can create a workgroup and grant users view permission or file revision to allow them to edit the file locally or online.  Of course, you can also prevent a user from viewing a file at all.  This ensures only the right people can access and edit sensitive information.
For very sensitive documents, you can limit a user's ability to download a file and even set the number of times a user can see a file.  For time-sensitive documents, you can add a validity period that turns off file access whether the file is online or local.
2. Permission control
Beyond viewing and editing, you may want more granular permissions to add a layer of enhanced security when you're sharing your documents.  This allows in-use controls to limit specific actions when the file is open.
Using Wrapsody eCo, for example, you can prevent a user from printing, taking a screen capture, or copying content from a sensitive file.  You can manage these permissions by user and by file.  User permissions are easily configurable, with different levels of access granted to users within a workgroup, which you can adjust manually as needed.  You can set distinct permissions for each file shared within a workgroup, enabling finer control over access and preventing unauthorized modifications or sharing.
Further security allows for adding a visible watermark on the document when editing online.  This deters users from taking a picture of sensitive data with a phone or camera and sharing it with an unauthorized user.
3. Encrypt files to add a layer of security
Most collaboration tools encrypt data at rest while stored in a data center and ensure an encrypted communication channel using TLS while files move in and out of the system.
Encryption is a method of securing digital data by taking an original piece of information and converting it into an alternative form that can only be read with proper authorization.  The encrypted data can only be decrypted by an authorized user who has the key.  That's important to ensure your data remains safe from hackers, nation-states, or corporate espionage.
Encryption plus the granular access controls mentioned above also protect the data in use.  It's important to control the contents of a file when it's open, so you can stop users from copying and pasting sensitive data into an email or other communication channel.  This protects against malicious insider threats or unintended mistakes.
With Wrapsody eCo, for example, we encrypt all data using AES 256-bit encryption, which is the most secure of the three AES encryption standards.  In fact, experts estimate that the length of time it would take to crack an AES 256-bit encryption by brute force would be longer than the universe has existed.  While AI and quantum computing may reduce this time, I think your data is pretty safe.
4. Sync files when you open them
A challenge with collaboration tools is finding the latest version of a document and having a secure backup in the event of loss or ransomware.  With most tools, you have to rely on a location to check a document in and out.  If you edit a document locally and forget to return it to the system, your team members may be working with outdated information.  This can cause duplicates everywhere and make your sensitive information subject to ransomware and theft.
With Wrapsody eCo, a user gets the latest version of a document when opening it, regardless of location.  If the user edits the document and saves it, it automatically synchronizes to a central location.  Documents remain encrypted and this synchronization ensures you have a safe copy at all times.  If you are the victim of ransomware, your adversary can't read your data, so there is nothing to fear.
Wrapsody eCo: an intuitive and secure collaboration tool
If you're looking for a new tool to help your teams collaborate remotely, you need to know it will keep your data secure.  It also needs to be a useful tool that's intuitive and enjoyable to use, which can help you and your colleagues to do your best work.
Wrapsody eCo is a smart and safe collaboration tool where teams can come together to exchange ideas, collaborate in real-time, and centralize documentation.  It combines security, collaboration, and productivity into a single platform making it easy to share documents, chat about them in real time, and even discuss projects through video.  It helps eliminate duplicate copies because of its automatic synchronization process which can increase productivity.
Interested?  Sign up for a free 15-day trial to see what Wrapsody eCo can do for your team.