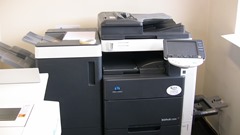 Printers are definitely not what they used to be a decade ago. They have evolved and are becoming more involved in organizations' networks, as well as an increase in multifaceted functions that have made them vulnerable and threaten the stability of the entire network. Hackers and insiders have made their case by causing internal and external data breaches through these printers.
Nowadays although there has been a great push to secure mobile devices and their data, organizations neglect to additionally secure their network and internet-enabled printers. The reason this is such a concern now, is that from these mobile devices you are now able to print, scan to email, network drives and scan to web-hosted applications.
"Many hackers will be able to access the entire network through tracking the metadata of printed documents, or by hacking the passcode of the MFP. Whether these breaches are caused by an attack from an unauthorized outsider, or internal factors, such as human error, systems must be put in place to resist disruption to the network," said Grant Howard, who is Professional Services Technical Manager at Annodata in a recent article regarding that "Smart print devices are an untapped opportunity for hackers…"
In another recent blog post, we proposed that taking a data-centric approach to your security can give you a more complete view on how sensitive data is used in your organization. Controlling and managing access to printers, secure mobile printing and tracking and auditing usage are three challenges that come to mind when it comes to securing printers. These three challenges must also be part of this solution.
Some of the key benefits of secure printing are as follows:
· Increased document security – avoids unauthorized use
· Increased user mobility and productivity – print anytime, anywhere securely
· Improved accountability – tracking printer usage for auditing purposes
With these protective measures, Fasoo ePrint provides an effective yet secure print management solution.  If Fasoo ePrint detects sensitive information in a document, a predefined policy can block printing. It controls and traces printed documents on your existing printers, so you can continue to use your current output devices.
When used with Fasoo Enterprise DRM solutions, it extends the security area and provides stronger protection for personal information maintained within organizations. This then provides a wider range of solutions to protect not only your printouts but also you data.
With this solution out there and ready to be implemented, it is time to mitigate and eliminate the risk of data breaches through printers as there are already too many making headlines that could have been avoided with this solution.
Photo credit by: Phil Campbell