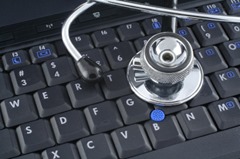 Are we still not encrypting our data in a time when cyber-attacks have been happening to so many big names in the healthcare, retail and government? Recently, UCLA Health System's computer network was broken into by hackers and may have accessed sensitive information on as many as 4.5 million patients. The information included names, dates of birth, Social Security numbers, Medicare and health plan identification numbers as well as some medical information such as patient diagnoses and procedures.
The intrusion is raising fresh questions about the ability of hospitals, health insurers and other medical providers to safeguard the vast troves of electronic medical records and other sensitive data they are stockpiling.
The reason why this is making even more news is that UCLA did not take the basic steps even after all the major breaches on the federal government as well as health insurance giant Anthem Inc., to encrypt patients' data. This has drawn swift criticism from security experts and patient advocates. It is not a secret that the healthcare industry has been the target of many data breaches. However, the continuation of these breaches seems to continue, and the vulnerability of these systems has made it a field day for hackers to steal sensitive data.
Nowadays, it is not only business and patients not going to their hospital that they have to worry about, but now the government will investigate breaches of patient privacy and can levy significant fines for violations under the Health Insurance Portability and Accountability Act, also known as HIPAA.
However, compliance aside, the most important aspect is to ensure that this information is really protected. In a recent article, in HIT Leaders and News, the article mentions how "while compliance is still a major driver in healthcare, compliance does not equal security. Organizations that drive data security efforts based on compliance put their data at risk. Healthcare organizations need to take a more holistic and proactive approach in their data security strategy."
Also mentioned in this article is the fact the recent legislation in New Jersey has taken the step of mandating the use of encryption for PHI or Protected Health Information that "renders personal information unreadable, undecipherable or unusable by unauthorized persons." Now this definitely means more than just having a password to your data, but it is pushing for you to have a more robust method to ensure that all aspects of the data are secure, no matter where it is.
Let us hope that such data breaches as this one have hopefully provided a lesson to other healthcare organizations and other organizations from different industries that they must implement security and encryption to "completely block the path to your most valuable assets."
Photo credit by: jfcherry