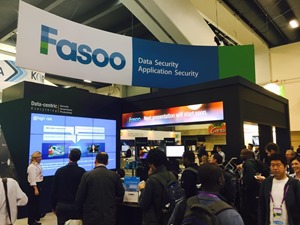 After two days at the 2017 RSA Conference in San Francisco, it looks like Fasoo's message of Security, Governance and Productivity is hitting a nerve with security professionals, analysts, executives and other attendees.  As the regulatory and business climate change to overcome constant threats to businesses and the data they use to drive profitability, companies are looking for a more comprehensive and practical approach to providing secure ways to conduct business.
An interesting theme at this year's show is Business Driven Security.  I think the convergence of business and security is finally coming to a head as boards and executives realize they must think of security solutions as a business driver that helps mitigate business risk so they can propel their businesses forward.
One main focus this year is helping financial organizations comply with the New York State Department of Financial Services (NYS DFS) cybersecurity regulations.  Fasoo employees spoke to numerous banks and mortgage companies at the booth that are affected by this new regulation to encrypt nonpublic data and provide clear access control and audit trails.  The Fasoo Data Security Framework can help protect sensitive data from getting into the wrong hands and help meet this comprehensive regulation.