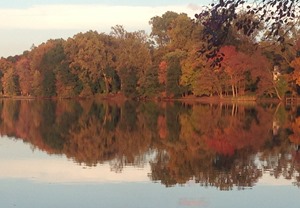 The month of October was very busy for Fasoo as we were all over the US talking to people about data-centric security and how it is the best solution to protect your sensitive information from insider threats and external hackers (APTs).
We started the month by attending the Rochester Security Summit in Rochester, NY.  This two-day event brought together executives and technical staff from numerous organizations in the Rochester area to share intelligence on how to protect their businesses from cyber attacks.  Fasoo was part of a vendor pavilion with our partner Brite Computers showing attendees how to protect data localized from databases, files downloaded from content management systems and those shared through the cloud and on mobile devices.  Ron Arden, Vice President – North America, presented to a packed room on "Closing the Threat Gap: A 21st Century Approach to Minimizing Risk" as part of the Threat Landscape track at the event.
The following week saw Fasoo sponsoring an executive luncheon on The Internet of Things (IoT) at the Nasdaq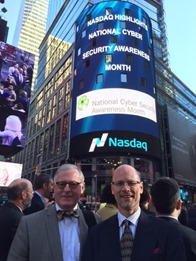 Marketsite in New York City.  The event was put on by the National Cyber Security Alliance (NCSA) as part of National Cyber Security Awareness Month (NCSAM).  Bill Blake, President – North America, and Ron Arden got to participate in the luncheon and spoke to the numerous executives and government officials.  We were even part of the closing bell ceremony; look for us around 1:00 into the video.  With all the interest in IoT devices and the tremendous data that each will generate, Fasoo was educating people on how to protect the information collected and ensure that PII, PHI and other personal data is protected.
We finished the month in Las Vegas at the IBM Insight 2015 conference.  Fasoo was a Silver Plus Sponsor, so we had a booth right in the middle of all the action.  Security and analytics were big focuses of the conference this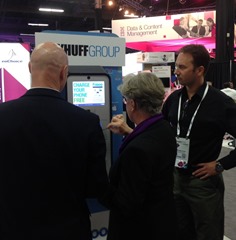 year as many organizations are trying to understand where they have sensitive information (the crown jewels) and how best to protect it from internal and external threats.
Bill Blake, Ron Arden and National Account Manager Alper Kizar were all in Vegas talking to customers, IBM staff and generally enjoying the warm weather.  Bill presented "Closing the Threat Gap: A 21st Century Approach to Minimizing Risk" to an enthusiastic audience at the Expo Theater.  Our partners Dayhuff and Neocol joined us in the booth and throughout the conference as many attendees were talking about securing the mountains of unstructured data in their companies.  Of course Vegas would not be complete without some fun, so Dayhuff held its annual get together at the Ri Ra Irish Pub.  The Irish definitely make some great beer and it was great to unwind with everyone after a long day at the conference.
During the different events, I heard a lot of recurring themes from attendees, vendors, speakers and security professionals.  I think they show the challenges CISOs, CIOs and other executives face as they try to move their businesses forward in an ever changing security landscape.  Here are a few of them.

Corporations do not have perimeters anymore

Security is everybody's job

Monitoring data is hard, it's like dust, it's everywhere

Users are very naive about security and need to be educated

More than half of all data breaches are caused by human error

When you increase where the data is, it increases the risk

Being compliant doesn't mean you are secure
Fasoo has the best approach to address each of these points through strong file encryption and persistent security policies that travel with the data.  Access to sensitive data is controlled through good identity management that ensures your sensitive data is protected and controlled regardless of location or device.  Working with existing applications and workflows makes it very easy for users to apply security to files, since they don't have to think about it.  Automatic security policies apply the right level of access control as soon as someone creates a file.  This makes it easy to control unstructured data, whether it's created locally or downloaded from an existing information system.
Check out some of the pictures from our busy October as the weather turns colder and the end of the year is in sight.  Hopefully we can help you create a secure work environment by protecting your most sensitive information from getting into the wrong hands.