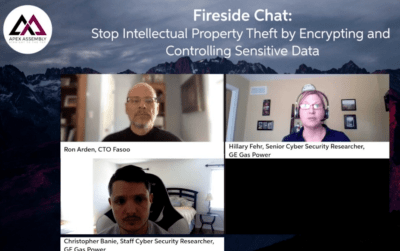 How to stop intellectual property leakage and theft in manufacturing?
That was the topic of a discussion hosted by Fasoo at the 2021 Apex Assembly Tech Leaders Northeast Summit. CTO Ron Arden spoke with Hillary Fehr, Senior Cyber Security Researcher with GE Gas Power, and Chris Babie, Staff Cyber Security Researcher with GE Gas Power, about the challenges of IP protection in the manufacturing enterprise. 
In Part 1 of this conversation, IP Protection: "We need a tool with a wider scope", we focused on how to protect sensitive CAD files, 3D-PDFs and other PDF file formats, in addition to the wide variety of Microsoft Office and other documents typically found in innovation-driven manufacturing companies.
In this post, Ron, Hillary and Chris zoom in on additional insider threats and risks introduced through the rise of the cloud and the rapid shift to work-from-home due to COVID-19.
What advice do the GE security researchers have for IT leaders in manufacturing companies looking to update their document protection program? Find out in Part 2 of the conversation:
*