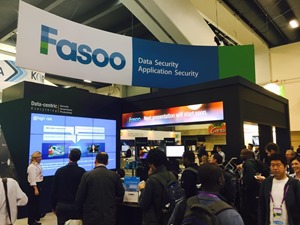 After two days at the 2017 RSA Conference in San Francisco, it looks like Fasoo's message of Security, Governance and Productivity is hitting a nerve with security professionals, analysts, executives and other attendees.  As the regulatory and business climate change to overcome constant threats to businesses and the data they use to drive profitability, companies are looking for a more comprehensive and practical approach to providing secure ways to conduct business.
An interesting theme at this year's show is Business Driven Security.  I think the convergence of business and security is finally coming to a head as boards and executives realize they must think of security solutions as a business driver that helps mitigate business risk so they can propel their businesses forward.
One main focus this year is helping financial organizations comply with the New York State Department of Financial Services (NYS DFS) cybersecurity regulations.  Fasoo employees spoke to numerous banks and mortgage companies at the booth that are affected by this new regulation to encrypt nonpublic data and provide clear access control and audit trails.  The Fasoo Data Security Framework can help protect sensitive data from getting into the wrong hands and help meet this comprehensive regulation.
Other attendees were very interested in providing a more secure way of collaborating with documents.  It's clear that organizations need to secure their data and protect against cyber attacks, but if employees and partners aren't productive, business comes to a halt.  Productivity drives innovation and Wrapsody is a great way to let people share ideas securely as they drive their businesses.
Of course what would RSA be without some fun?  Our hourly presentations are very lively and attendees are entered into a drawing for an Amazon Echo.  We gave one away on Tuesday and will at the end of each day.  Aside from the prize, a lot of people were very interested in how Fasoo can really protect sensitive information from getting outside their companies and either cause them to go afoul of regulators or hurt their bottom line.  Encrypting and always controlling information is the best way to meet regukatory requirements and protect your intellectual property.
If you haven't already, stop by booth S1239 on the show floor to see how we can help your business.