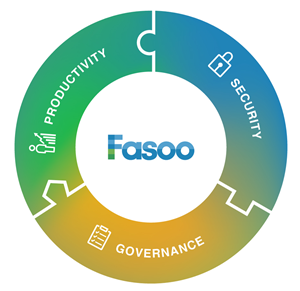 Fasoo has a big presence at the RSA Conference 2017 in San Francisco where we will showcase our newly expanded data security and management framework which helps companies track, manage and secure their data.
Focusing on the business themes of Security, Governance and Productivity, Fasoo is helping executives and boards of directors comply with enhanced cybersecurity regulations while ensuring they can meet the needs of constantly changing business models that demand secure collaboration to get things done.
Today's business world demands a new look at how we define and protect the borders of our organizations because our data is created, stored and consumed in systems that may be outside the traditional information security and document management models.  Visitors to Fasoo's booth #S1239 will see demonstrations of the Fasoo Data Security Framework and Wrapsody that together helps organizations consistently control, secure, track and manage documents no matter where they travel.  This new, integrated data-centric approach overcomes legacy solution limitations that comprehensively satisfies organizational demands placed on data security, governance and productivity.
Fasoo will also show its machine learning based static application security tool, SPARROW, that identifies and remediates security vulnerabilities in your software.  With a large focus on embedded systems, IoT (Internet of Things) and ever expanding mobile apps, ensuring that your applications are robust and secure is the best way to protect your users from data breaches, privacy and security concerns.
"It is imperative that organizations have data-centric content management and security traveling with their information," said Fasoo's CEO Kyugon Cho. "Our theme at this year's show highlights the robust nature of our best-in-class software technologies that enable us to truly be "Data-centric Everything" – and address the full range of current and emerging enterprise data demands."
In addition to the product demonstrations, Fasoo will be hosting presentations throughout the day addressing how companies can win big by targeting data use cases that are at the intersection of multiple organization needs.  Satisfying the competing interests of business productivity and data security and governance has always been a big challenge, since focusing on one can typically cause deficiencies in others.  The Fasoo approach helps satisfy all these needs without sacrificing anything.
Another bonus is that visitors to the Fasoo booth have an opportunity to win an Amazon Echo and some other great prizes.