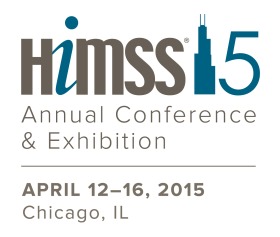 Spring seems to finally be here and if you are heading to Chicago for HIMSS15, it's time to think about what you want to see and learn while you are there.
If you have been following healthcare headlines the last few months, you know that information security is a big topic with major data breaches at Anthem, Premera Blue Cross and others. Whether you are a hospital, clinic, lab, insurance company or other provider, your patients' information is under attack from internal and external people.
If you want to understand some of the best ways to help you secure your PHI and other sensitive data, come visit us at booth number 8175. We are in the Cybersecurity Pavilion and want to show you how to secure your most sensitive information as you share it internally and with your business partners.
With the tremendous influx of mobility solutions in healthcare, doctors, nurses and administrators regularly access patient information from laptops, tablets and other mobile devices. Safeguarding that information as it moves around the organization will help you maintain your patients' privacy and keep you in compliance with HIPAA and other regulations.
Visit the Fasoo booth at HIMSS15 to find out how to:
Encrypt PHI to meet HIPAA, HITECH and new data protection legislation Secure files downloaded from heath information systems and shared with external providers Control who can View, Edit, Print and take a Screen Capture of sensitive documents

Scan files to identify PHI and apply security policies automatically

Trace and control user/file activities in real-time

Dynamically control who can access files and revoke access immediately if needed

Prevent screen capture tools from capturing PHI on computer screens

Deter users from taking pictures of sensitive data on a screen with visible watermarks
So there you have it – eight great reasons to visit Fasoo at HIMSS15.
Stop by and see us. You've got our number.