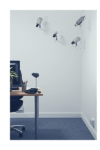 Remote work is putting sensitive data at risk. That we can all agree on. Traditional endpoint protection frequently fails. So what about stronger surveillance of remote employees at home? 
*
Let's monitor the heck out of them, shall we?
That seems to be the approach of some financial services firms whose remote workers handle sensitive financial data and Personally Identifiable Information (PII). Is remote work surveillance a good idea? 
Perhaps, if your organization is craving attention – from the Washington Post, for example – for all the wrong reasons: privacy concerns, lawsuits, alienated employees and contractors. 
"Excessive surveillance," writes ZD Net's Owen Hughes, "is having profoundly negative effects on the workforce."
But does it work?
Why monitor employees at home?
You see, that's the other catch: it may not be worth the effort and expenses. Digital surveillance, warns Tech Target's ComputerWeekly (UK), may "increase enterprise risk" by "forcing remote workers towards shadow IT."
In short, excessive work-from-home surveillance doesn't only erode trust and productivity. It also results in weaker data protection and employees leaving for the competition. 
What's not to love? Perhaps you agree: pretty much everything, if you value your employees and work culture.
The tips below favor a non-creepy approach that is more sustainable: 
5 data protection tips for maintaining trust in the Zero Trust era  
Fasoo's data-centric security model maximizes document protection – not the surveillance of the people handling them from home. Fasoo enables IT to secure and keep tabs on sensitive unstructured data throughout the document lifecycle, instead of putting employees and contractors under home office surveillance.
Stay vigilant; keep watching. 
Fasoo Enterprise DRM lets your organization automatically assign file protection without user intervention at the point of creation. Encryption and policies keep the document secured even when it is shared outside the organization by mistake.
Efficient document protection with Fasoo enables your organization to continuously monitor, log, and flexibly change who's accessing confidential files and how. 
Turn your employees' bedroom nooks into secure print stations.
What would it take, aside from nationwide lease, maintenance, and insurance contracts? The kids giving up their bedroom? A two-camera surveillance system? 
Or, less creepy: You deploy Fasoo Smart Print as your organization's remote network of monitored print stations. Regardless of which physical or virtual printer is used – including the old inkjet in the bedroom nook – IT remains fully in control.
A granular audit trail includes the text or image of the actual printed content. It ensures visibility into all print activities that involve EDRM-secured documents.
Intervene when they take a snapshot.
How do you keep remote employees, in the privacy of their home, from using the Print Screen key, screenshots, or a smartphone to take pictures of confidential information?
Install more spyware and observation cameras? Think about the possible impact on your workforce retention rate in the "great resignation" era.
Here's a less heavy-handed approach that's more efficient than excessive remote work surveillance. Deploy Smart Screen, Fasoo's on-screen document protection. It enables IT to block and monitor screen capture attempts. Administrators can monitor all screen capture attempts and even view an image of the targeted areas.
It may be impossible to keep a determined person from taking photos with a smartphone or camera outside a high-security office area or designated data room. That's why effective deterrence is essential. Fasoo Smart Screen enables admins to imprint sensitive documents with a visible "smart" watermark that contains tell-tale user-specific information.
Keep tabs on them outside work and after hours.
On your files, that is. Shareholders, customers, and regulators expect you to protect confidential financial information and PII throughout the document lifecycle. Password-based document protection or Data Loss Protection (DLP) solutions, for example, cannot provide this level of security. 
DLP aims to prevent data exfiltration, but files can still make it beyond your organization's IT perimeter: on a USB stick, for instance, or via a personal cloud storage account.
With Fasoo Enterprise DRM, encryption and policy settings apply regardless of where the document lands and prevent unauthorized access. A confidential file remains protected even in the wrong hands.
Always and immediately involve higher-ups, IT, and HR… 
…when (former) employees attempt to access specific documents. Sounds ridiculous, right?
Well, that's because it is. Yet, some Information Rights Management (IRM) solutions expect data owners to relinquish control over individual documents to a degree that poses challenges for organizations with many users and constantly changing roles.
Workflows become work trickles. People find shortcuts. Overall data security suffers.
Fasoo's centralized policy management capabilities allow for flexible, people-centric exception handling. It integrates with all leading federated authentication systems, minimizing risk when employees change departments or leave the company.
This approach ensures that everyone who needs to be is in the loop about a file's security – the document creator, supervisors, IT, and HR. No home office surveillance required. 
*
Zero Trust makes sense. Until it doesn't.
Would you make Zero Trust your People & Culture or HR slogan? Let's face it: You need a Zero Trust strategy to secure your data. As a tagline for your work culture, on the other hand, it would be a less than ideal pick.
With Fasoo Enterprise DRM, you don't have to sacrifice trust and productivity by setting up remote work surveillance bridgeheads in your employees' homes.
As a cornerstone of your Zero Trust strategy, Fasoo empowers your organization to maintain its work culture and trust within the team while still ensuring maximum data protection.
Contact the Fasoo team to find out more.