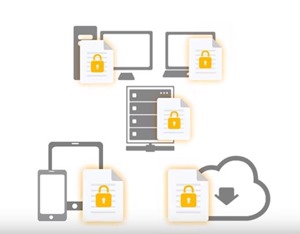 The only effective way to prevent the loss of confidential information is to secure data from creation to the end of its life. This is critical for boards and executives coming to terms with the realization that their network infrastructure may have been compromised. Fasoo's Data Centric Security provides organizations with the ability to prevent intentional or accidental exposure of confidential information by classifying and securing data locally, in repositories and in the cloud.
For organizations using IBM ECM, Fasoo extends security by securing, controlling and tracking documents beyond the controlled boundaries of IBM ECM systems. This is important when users share documents through cloud-based repositories, like Box, Dropbox, Google Drive, etc. At the recent NASDAQ sponsored Internet of Things luncheon in New York City, Bill Blake, President of Fasoo, Inc. spoke with attendees regarding the gaps in IT security that can expose confidential data. Bill noted that, "unstructured data that is not managed and controlled is one of the biggest threats to business today. In an age where hundreds of thousands of records can be moved in seconds to any location or any individual, companies need to rethink how they manage and track confidential data."
The increased risk of experiencing a major data breach is causing company executives to determine who has access to confidential files and where these files are stored. Using a data-centric security approach to protect the data ensures that companies have the necessary tools to create a secure working environment while protecting data regardless of its location or device it is accessed from.
Fasoo will showcase their data centric security solution at IBM's Insight 2015, taking place at Mandalay Bay, Las Vegas from October 25 – 29 at Booth 853. Bill Blake, President Fasoo, Inc. will present, "Closing the Threat Gap: A 21st Century Approach to Minimizing Risk" on Tuesday October 27 from 1:00PM – 1:20PM at the Solution Theater, EXPO where he will share how organizations can protect sensitive information by controlling access and use of data as it's downloaded from IBM ECM or host based systems, created at the desktop or localized from a database through continuous encryption and persistent security policies.
Come by and say hi and see how we can help you protect data that is created locally in files, downloaded from databases and information systems, and shared with people in the cloud.