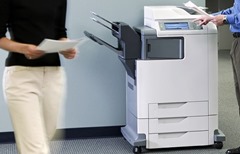 Information security is a tough business.  As technologies evolve and businesses seek to use technology advancements as a competitive edge to be more productive, more efficient and to provide better service to their customers, the bad guys are also innovating with more ingenious ways to get at valuable digital business information.  Security postures are often re-evaluated to add new layers of technologies to deal with new and existing threat gaps. As this process dynamically takes place, one area that often does not get enough attention is printing – processes, workflows and the security around it.
Walk into any business today, and you will notice they have departmental printers spread all around the office as well as individual printers on people's desks. This presents a significant gap in data security and is an easy source for a data breach. Printers spread around the company often contain a substantial amount of data – some very confidential data – in digital and paper format.
The sheer volume of files printed in everyday situations is simply staggering. Many print files contain sensitive business information, including company financial data, employee information, patient records and client information.
Here are some common questions companies should ask themselves to prevent print related data breaches and the consequences of those breaches:
Who is allowed to see the digitized files/documents that enter our print processes?
Do we have ability to prevent printing on virtual, or non-corporate printers?
Can we add watermarks on printouts that contain identifying information which can be used as an additional layer of security?
How can we expire or render our digital files useless at the end of their life-cycle?
Do we have the ability to keep an image of a printout for e-Discovery?
Are the files protected persistently and end-to-end in storage, while transmitted over insecure channels and while in use by our authorized users?
Security and privacy aspects of both client and employee information is of utmost importance for all businesses. We all know there are many serious consequences to a breach and when a company fails to implement appropriate steps to comply with various privacy, compliance and security mandates.
If you haven't addressed any of the above questions in your print processes and a data breach situation arises, you may be open to action due to negligence. Companies must put processes in place as early as possible to address specific print security threats – not just to be simply compliant, but to protect the business, clients and patients. One way to achieve this goal is through data-centric security for persistent protection.