Fasoo hosts a discussion on "Stop Intellectual Property Theft by Encrypting and Controlling Sensitive Data" at the 2021 Apex Assembly Tech Leaders Northeast Summit.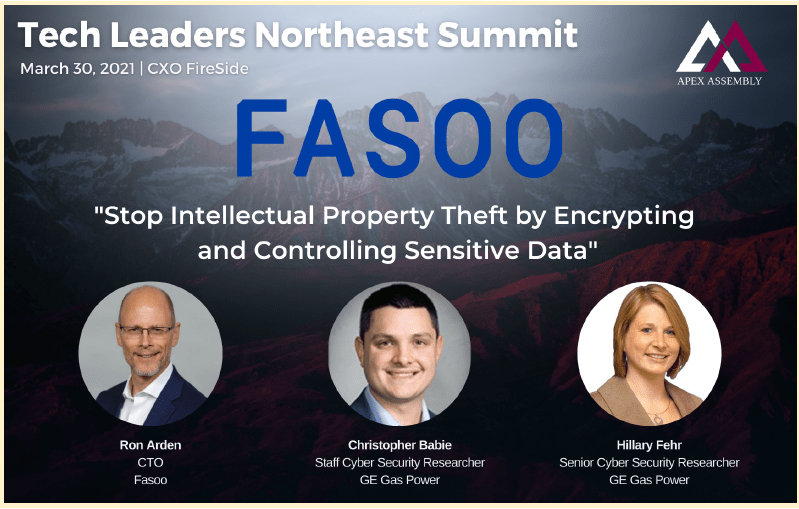 Ron Arden, CTO with Fasoo will be joined by Christopher Babie, Staff Cyber Security Researcher and Hillary Fehr, Senior Cyber Security Researcher with GE Gas Power.
Date: March 30, 2021
Time: 1:55 PM – 2:20 PM (EST)
Maintaining a competitive edge in manufacturing demands protecting R&D, product designs, specifications, and other sensitive intellectual property (IP).  Security is crucial to stop the leaking of critical information as people share CAD files and other documents throughout the supply chain and to employees or contractors who may not be with your company forever.
Sharing this data through email, collaboration platforms, and mobile devices requires new file-centric security to ensure business continuity and profitability.  Encrypting and controlling sensitive data at the point of creation will reduce insider threats and improve your overall intellectual property protection position.
Fasoo sponsored the Apex Assembly Tech Leaders Northeast Summit on March 30, 2021 which will unite visionary leaders and industry experts for a half-day of content and discussion, examining the challenges of 2020 and concentrate on the most pressing issues of 2021 in the information technology sector.
Join our Fireside Chat and learn:
How to protect intellectual property in manufacturing and supply chain environments from insider threats
Why using solutions focused on Microsoft Office do not meet protection needs for the breadth and depth of IP
How centralized policies and control ensure you never have orphaned IP
Click here to watch the full webinar and learn how to stop intellectual property theft by controlling sensitive data.