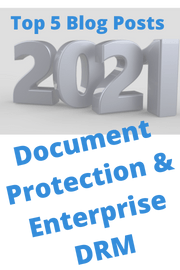 Which blog posts about document security and protection attracted the most visitors to the Fasoo website in 2021?
Let's face it: the ins and outs of Digital Rights Management (DRM) in the enterprise don't exactly make for blog topics that get most people's juices flowing.
The good news is that content that draws on the insights shared by Fasoo's longtime, recent, and not-yet customers can overcome this hurdle. Readers interested in Enterprise DRM clearly prefer blog posts that answer relevant questions and provide hands-on advice for IT decision-makers and their teams.
Which Fasoo blog posts hit a nerve in 2021? These were the Top 5:
*
# 5: Your questions about Fasoo Enterprise DRM vs. Microsoft AIP, answered
"How does Fasoo Enterprise DRM (Fasoo EDRM) compare to Microsoft Azure Information Protection (AIP)?" In one version or another, this was one of the most frequently asked questions the Fasoo team had to answer in 2021. 
It's a tricky one. After all, Microsoft AIP was developed primarily with the document ecosystem of Microsoft Office plus a few third-party file formats in mind. Fasoo DRM, on the other hand, provides document protection at scale and for more than 200 file formats in large organizations and along their supply chain.


Photo sources: Dreamstime / Ford
So can you compare the two at all? We tried. Let's just say minivans keep us moving, but for serious business, you may want to consider a  super-duty truck.

It seems like many readers have been looking for answers to EDRM-vs.-AIP-related questions. Did you miss the post?
Check it out here:
# 4: IP theft prevention: a step-by-step guide for the automotive industry
In vehicle and component manufacturing companies, most sensitive information is stored and managed digitally. Examples are:
How can you protect digital assets against intellectual property (IP) theft? Without adequate – data-centric – protection, trade secrets can end up with a competitor or a foreign government in a matter of minutes, even seconds: on a USB device, say, or uploaded to a personal cloud storage account from an unmanaged remote work laptop.
And they do. 2021 was marked by the "Great Reset" in the automotive industry. Employees working from home or leaving for a competitor (or both) posed the biggest threat to their company's proprietary information. How to prevent intellectual property theft in the automotive sector? Many blog visitors turned to our 10-step guide here:
# 3: Important enterprise DRM terms, explained
Enterprise-level DRM can be confusing. The – often niche-specific – solutions of the past were expensive, complex to deploy, and difficult to scale. As a result, IT teams weren't exactly gung-ho about exploring today's DRM-based information protection.
This has changed. Enterprise DRM solutions have come a long way, which has caused a resurgence of the category and considerable change in perceptions. In 2021, this trend had more IT professionals asking about specifics. 
So we dedicated 2021 to cutting through the fog of related terms and acronyms for this growing audience. A timely decision, judging by our blog traffic numbers. The Enterprise DRM Glossary became the 3rd-most frequented post of 2021:
# 2: PDF security – an oxymoron?
You would think that 28 years after Adobe first introduced its platform-independent "secure" PDF file format, all related document protection questions should be settled. Far from it, as you may know.
Yet PDF files are making up a large share of unstructured business data. Do you know how well all your sensitive PDFs are protected? If the answer is no, consider yourself in good company.
According to a 2021 report, researchers who analyzed publicly accessible PDF files of 75 government security agencies identified only seven that had removed sensitive information before publishing. Ouch.
This data point doesn't make you feel better? In that case, the # 2 on our Top-5 list of document protection blog posts provides relief. It gives a hands-on introduction to various approaches to securing PDF documents against unauthorized access, including editing, printing, copying, or screenshots:
# 1: DRM vs. DLP – a false dichotomy?
And the winner is… Boasting not one, but two industry acronyms in the headline, the chart-topper on this Top 5 list defied headline writing best practices and search engine odds in 2021.
DRM and DLP – Data Loss Protection – both aim to protect sensitive documents against leakage and exfiltration. They are frequently weighed against each other, but that doesn't explain why this blog post piqued that much curiosity.
Maybe it's because it fundamentally questioned the traditional "either/or" perspective? If you haven't read it yet, you can find it here: