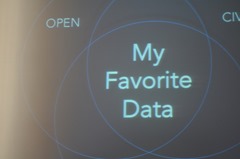 How many times have you heard that cyber security should revolve around the data? Not much?  Me neither.  It has been a lot about the device, or the network or the user.
However, in a recent article on data security, a panel of experts agreed that security must center on the data itself. With data being literally everywhere, whether it is on your PC, your mobile device or in the cloud, there is always a way to intercept this data.  You don't always know the location of your data at all times.  However, for those cases where you know the location, can you always guarantee that this data is in the right hands?
How do you make sure that the data is always secure? Whether it is within your organization, or outside of your organization, there are too many parties that expect that information to be secure. Your data, your intellectual property and your confidential information needs to be able to protect itself persistently no matter where it is with the right data security.  It is essential to protect it, control it, and trace it throughout its entire lifecycle.  The data needs to be encrypted with the right solution so that you can safely share this data internally and externally, freeing you from concern of unintended information loss.
Having laws on data breach notification are not adequate to protect yourself from data loss, since this is like closing the barn door after the cows are gone.  If the data itself is not protected, the damage is already done.  It will not be long till people question your business about how you are protecting their data, not about how they will be notified after it has been leaked.
Fasoo Enterprise DRM (Digital Rights Management) can make sure you have the right solution to protect your data.
Photo credit Center for Data Innovation