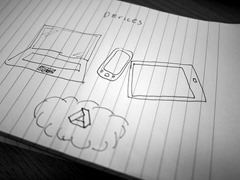 The days of projects being managed by small teams that work in the same building are gone forever. People work across counties, countries and continents from inside and outside the company. The thread that connects this workforce is "in the cloud," allowing users to access project information securely (if you use DigitalQuick) regardless of one's location. Cloud computing is computing based on the internet. In the past, people would run applications or programs from software downloaded on a physical computer or server in their building, but now cloud computing allows people to access the same kinds of applications, document, and data through a shared environment on the internet.
Benefits of Cloud Computing
·Access – Anytime, anywhere access to the information you need so you can work from anywhere. Thank the cloud the next time you are drafting a status report in your PJs.
·Increased collaboration – Since employees anywhere have access to the cloud they can work on documents and shared apps simultaneously, and share and receive critical developments in real time. A survey by Frost & Sullivan found that companies which invested in collaboration technology had a 400% return on investment.
·Cost-Efficient – Cloud computing eliminates the need for people to travel, saving hundreds of dollars per worker, and allows that worker to spend more time on the work and less time on the road.
·Storage – Using the cloud provides much more storage than if you were to use one physical device.
·Environmentally friendly – When using the cloud you decrease your carbon footprint. According to a study for small companies, the cut in energy use and carbon emissions is likely to be 90%.
Thanks to cloud computing, employees can work on the same document from different cities, states and countries. This allows for a more productive and efficient work environment. So thank you, cloud computing, we really couldn't do it without you!
Photo Courtesy of flickr/mattcornock