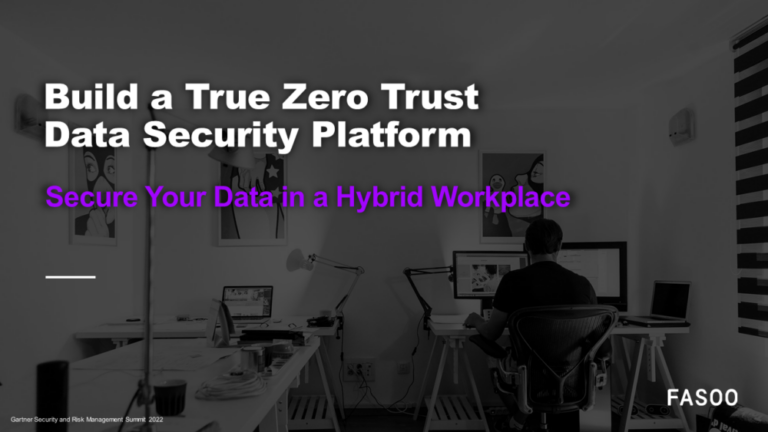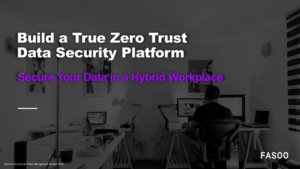 This year at the Gartner Security and Risk Management Summit we sensed a common theme among our fellow exhibitors and throughout the Gartner Analyst sessions. That theme is Zero Trust.
If you were not able to join our session, Fasoo: Build a True Zero-Trust Data Security Platform, you can find the recording online on the Gartner conference site. We will have it available soon on our website. You can find the presentation here.
We were pleased to discover several Gartner Analyst presentations directly reinforced Fasoo's approach and we wanted to share them with you.
Andrew Bales:  Outlook for Data Security. 
Andrew addresses Gartner's prediction that "By 2025, 30% of organizations will have adopted a Data Security Platform (DSP), due to the pent-up demand for higher levels of data security and the rapid increase in product capabilities." The presentation reviews the evolution of data security capabilities and their convergence into a centralized platform.  Fasoo leads the industry in unstructured data product consolidation with its Zero Trust DSP.
Michael Hoeck: How to Secure Your Data Using Data Security Platforms
Michael identifies a category of DSPs that are more narrowly focused on use-case-driven needs, in particular for unstructured data, that do a better job than more broad-spectrum platforms.  Fasoo's DSP specifically addresses unstructured data security and privacy use cases.
 Neil McDonald: A Pragmatic Approach to Implementing a Zero Trust Security Architecture
Neil highlights the importance of data encryption at rest and in transit in a zero-trust architecture.  Fasoo extends this to control over data in use and is a critical element of evolving security access service edge (SASE) architectures.
 Anthony Carpino: Technical Insights: Dark Data, Data Security's Biggest Miss
Anthony reports "Dark data could take up to 52% – 90% of the data our business stores and know very little about its content including the risk that could be lurking within it."   He identifies discovery, classification, auditing, and data protection as key features to shed light on dark data, all of which are core processes in Fasoo's DSP.
You can access these, along with the Fasoo presentation, through the Gartner conference portal, online, or on the app.