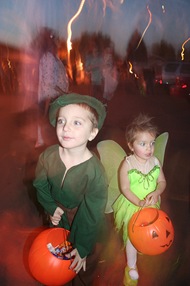 It's almost Halloween and another large company has decided they prefer the treat in the cloud to the trick of on-premise software. Virgin America took the leap into the cloud by moving from Microsoft Exchange to Google Gmail. The company is in the process of switching and was motivated by saving hundreds of thousands of dollars. Virgin America joins other large organizations, like The City of Los Angles, who decided that it was less costly and better for them to stop using on-premise software and move to a cloud-based service.
Virgin America currently runs Exchange 2003 and wanted to upgrade to Exchange 2007. Ravi Simhambhatla, Virgin America's CIO, started looking into the cost to upgrade and didn't like what he found. He determined that it cost him about $160,000 a year to run Exchange – that was just the hard costs. Moving to Exchange 2007 would cost about $660,000, which included new servers and storage capacity. Of course that didn't include administrator migration time.
According to Simhambhatla the annual cost of Gmail would be about $100,000, which is 1/3 less than running Exchange. The cost to migrate will cost about $330,000, which is 1/2 the cost of upgrading to the new version of Exchange. That's a big deal for any business.
Virgin America and The City of Los Angeles are just two organizations that wanted to save money by moving operations into the cloud. But cost was only one motivation. Flexibility and ease of use are others. The City of Los Angeles wanted to give their employees secure access to information from anywhere. This makes it a lot easier for employees to work from home or in any of the many offices scattered around the city.
Virgin America wants to focus their money and efforts on providing their customers with the best airline out there. Worrying about email is not a core objective, so it made sense to look at moving it to someone who specializes in that. Another advantage is moving to the cloud frees up IT administrators to focus on more important projects. The company is also moving to use Google Apps to eventually replace their Office applications. They feel the cost savings, the flexibility and the freeing up of resources makes it a smart move.
As Microsoft moves more of its business to the cloud, it will be interesting to see if their customers move with them. Their Office 365 is a hybrid model that combines some services and storage in the cloud with traditional Microsoft Office on the desktop. Virgin America looked into that, but decided to move forward with Google.
Whether you move all or just part of your business to the cloud is a complex question. Just make sure that you aren't tricked into something you don't fully understand. Moving some applications is an easy choice, but others require analysis. For many businesses there are a lot of treats to be had in the cloud.
Photo credit Phil Scoville