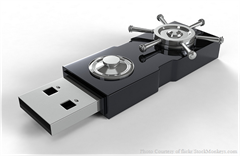 Collaboration is the cornerstone of every business. To successfully conduct business, people need to collaborate with their team members, with other teams, as well as with other organizations. With the globalization of today's economy, collaboration is becoming even greater on every kind of scale. An organization in the U.S. might find itself having to collaborate with another organization in France or Brazil, for example.
With the increasing rate and scale of collaboration within and among businesses, an increasingly greater concern is how to make sure that the collaboration stays secure. With data coming and going in all directions, steps must be taken to ensure that collaboration is securely done.
First to start, a non-negotiable is encryption. Files that are shared among various people must be encrypted, at the very least. Most organizations know this. In this day and age, it would definitely be hard to find many organizations that don't complete this basic step.
But what is the key to complete secure collaboration? The only way to ensure secure collaboration is to implement a data-centric solution. What that means is that protection is applied directly to the data and the data is therefore protected wherever it is or goes. Organizations also have to make sure that their data is persistently protected. Persistent data security ensures that the data is always protected, whether it is used, copied, moved or shared.
With collaboration becoming an increasingly crucial part in any organization and business, it's time to make sure that the security aspect is also taken care of.