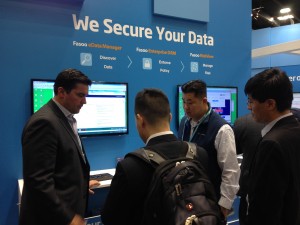 Security professionals, executives and other attendees had a lot to choose from at this year's RSA Conference in San Francisco, since information security has never been a hotter topic. With data security, cyber threat prevention and the Internet of Things (IoT) or Everything on a lot of people's lips, everyone was engaged in discussions of real problems and how to solve them.
A lot of conversations centered on the understanding that it's not a matter of if I get hacked, but when. During one session, the speaker echoed a fairly common notion that our perimeter security is broken. Companies spent $71 billion last year on information security, yet everyone assumes that the bad guys are already inside. With all that spend, how is this possible? Fasoo was showing attendees a multi-layered approach to data security that relies on a data-centric security model with people-centric policies. This allows an organization to protect critical data immediately and adjust access control policy as roles and people change.
As concerns about inevitable data breaches have reached the board level in organizations, talk has turned to mitigating risk. Most people understand that you can't eliminate risk. You need to minimize it and contain the damage a breach may do to your brand and your bottom line. The Department of Homeland Security (DHS) took government and industry to task saying that most organizations need improvement in managing security risk. One executive I spoke to in the Fasoo booth said that liability rests with the board if they have a data breach. She wanted to make sure that her company was not the next Anthem or Sony.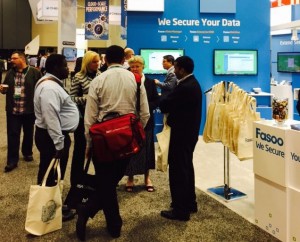 A lot of the current threat analysis and approaches to eliminate or at least reduce the damage done by cyber threats is still focused on infrastructure. A quick walk around the RSA exhibit floor showed that vendors and buyers of technology primarily focus on firewalls, intrusion detection, networks, servers and end points. They want to harden and protect these devices or software components to make sure a hacker or other bad actor can't compromise the system. Trying to identify malware and eliminate or quarantine it is still a big part of a security professional's daily routine.
An attacker typically wants to destroy infrastructure, steal data or affect availability. In the case of dormant malware, data exfiltration is a common goal. This could be stealing intellectual property, patient health information or customer data. I had one conversation with a manufacturing company that is worried about losing their proprietary designs and processes. If a competitor gets that information, they could be undercut by cheap knockoffs and go out of business.
As more attention is focused on protecting critical information, organizations are realizing they have to protect the data itself. It's important to protect your infrastructure, but if a hacker or trusted insider with malicious intent gets past the perimeter, your data is gone. Visitors to the Fasoo booth saw the best way to protect the data itself, by encrypting it at the time of creation and controlling its access through dynamic security policies. The new Fasoo RiskView will help companies better understand their data risk and allow them to correlate user actions with risk.
Cyber attacks are getting more sophisticated and harder to stop. Based on feedback from attendees and a few reporters I spoke to, more companies are realizing they need to focus on securing the data itself to mitigate their risk. Using a multi-layered security approach with data-centric security at the core is the best way to protect intellectual property and other sensitive data from getting into the wrong hands.