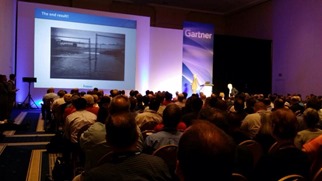 I think 2014 will be the year that Enterprise Digital Rights Management (EDRM) hits the mainstream.  Judging from the reaction of attendees at this year's Gartner Security & Risk Management Summit in National Harbor, MD, people are beginning to understand that many of the technologies they currently use can't close the gap when it comes to protecting themselves from Insider Threats.
Traffic at Fasoo's booth was very high as people were trying to find the best solutions to solve the problem of motivated insiders causing potential havoc to their organizations  They saw that Fasoo EDRM can help.
During a session on Monday, June 23, Neil MacDonald, Gartner Vice President and Distinguished Analyst, said traditional technologies like firewalls, intrusion detection and prevention systems (IDS/IPS) and antimalware fail to detect targeted attacks.  He said it's a challenge to protect yourself against random attacks, but its far more difficult to protect yourself against a highly motivated adversary, especially a trusted insider.
During his keynote address on Tuesday, June 24, General Keith Alexander said, "The ongoing theft of Intellectual Property represents the greatest transfer of wealth in human history!"  The General compared this to the Industrial Revolution and how today's wealth is not concentrated in natural resources, but in information.  And that information is under attack from a deliberate or accidental disclosure from an authorized internal user.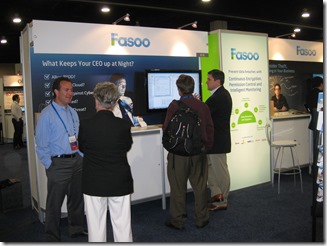 Talking to attendees, I got a sense that most people are ready to seriously tackle security vulnerabilities in their organizations.  I spoke to CISOs and other security professionals who are very concerned about protecting sensitive files from unauthorized people inside their organizations.  One gentleman from a financial institution wanted to make sure that sensitive client information is only available to the analysts and account executives that should see it.  A woman from a government agency was concerned about protecting all the files they get from credit agencies, banks and other financial institutions on employees and consumers.
On Wednesday, June 25, Bill Blake, Fasoo USA President, and Ron Arden, Vice President and Chief Marketing Officer, presented 'Defending the Enterprise Against Trusted Insiders' at a solution provider session.  Bill focused on the problems of malicious or accidental disclosure of confidential information by trusted insiders as a major threat to any organization; think Bradley Manning and Edward Snowden.  This includes employees, contractors, consultants and business partners that have access to sensitive information. Ron talked about how Fasoo EDRM can protect sensitive information by controlling access and use at the data level through continuous encryption and persistent security policies.  He presented two case studies that illustrate how Fasoo customers have met these challenges.
The session was standing room only, with over 200 people attending.  A large number came up after the presentation and asked very specific questions on document classification, offline access, mobile support and how kill access to files regardless of location.  A gentleman from the Department of Defense asked about ensuring that recruiters in the field were in complete control of all personnel information seen on phones and tablets.
Attendees at the session and at the booth were excited to see that Fasoo technology is very robust, balances security with usability and integrates with an organization's existing infrastructure.  I remember one person saying, "I was a little skeptical during your presentation, but convinced once I saw it in action."