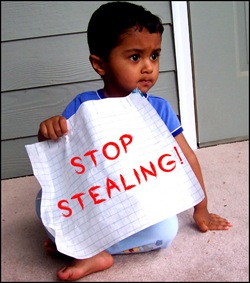 Today is Data Privacy Day 2011.  This started in 2007 in Europe as Data Protection Day and in 2009, the United States House and Senate recognized January 28, 2009 as National Data Privacy Day.  This expanded last year as the National Association of US Attorneys General officially recognized National Data Privacy Day 2010.
Privacy theft and piracy are huge problems and huge industries.  Stealing information is done primarily for one reason – to make money.  40 years ago Abbie Hoffman wrote the book "Steal This Book" to advocate rebelling against authority.  Today is a good day to think about rebelling against those who want to steal your identity and intellectual property for their financial gain.
The US Commerce Department estimated that US businesses lose $250 billion and 750,000 jobs each year to the theft of intellectual property.  The International Chamber of Commerce estimated this figure to be $600 billion internationally.  This doesn't take into account stealing of credit card information, social security numbers, medical records and a host of other information.
Since most of us spend a lot of time online, keeping our own information private is becoming more difficult.  Just about everything we do is stored somewhere and we need to understand who controls that information and what they intend to do with it.  This is summed up well by a quote from the Data Privacy Day website:
"In this networked world, in which we are thoroughly digitized, with our identities, locations, actions, purchases, associations, movements, and histories stored as so many bits and bytes, we have to ask – who is collecting all of this – what are they doing with it  – with whom are they sharing it?  Most of all, individuals are asking 'How can I protect my information from being misused?"
A lot of privacy breaches are a result of computer bots and other malware infecting your computer.  Many also occur because people click on things they shouldn't.  Each of us can take some basic precautions to make sure that our information isn't easily compromised when online.  This applies both to the workplace and at home.
Use current and updated antivirus and antimalware software
Ignore emails from people or companies you don't know
Don't click on links in email unless you know it goes to a legitimate site
Only shop at legitimate online merchants
Make sure a site uses SLL during any online transaction
As a business you need to think about what information you keep, what you do with it and how you use it.  Safeguarding sensitive data in your files and on your computers is just plain good business.  If that information falls into the wrong hands, it can lead to fraud or identity theft.  And both of these can cause irreparable financial damage to your brand, your business and your customers.  The US Federal Trade Commission (FTC) has some great tips on this topic.  They state that a sound data security plan is built on five key principles:
Take stock – know what personal information you have in your files and on your computers
Scale down – keep only what you need for your business
Lock it – protect the information in your care
Pitch it – properly dispose of what you no longer need
Plan ahead – create a plan to respond to security incidents
This is simple and sound advice.  Probably the hardest one to implement is scale down.  Most of us tend to keep everything, just in case.  In today's world that's not smart from a security or litigation viewpoint.  Keep it if you really need it, but pitch if you don't.
Take a moment today to think about your personal and your business data privacy.  It's a bit early for spring cleaning, but it might be worthwhile to look at what you keep and where you keep it.  Slimming down is always a great idea and it can better protect you and your business in the long run.
Photo credit lovelypetal