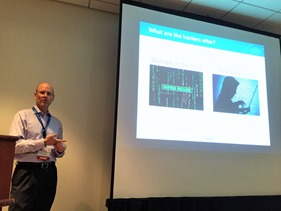 Ron Arden, Vice President & CMO, Fasoo, Inc. and Bill Blake, President, Fasoo,Inc., exhibited and spoke to security professionals and executives on how to protect sensitive data from insider threats and external hackers at the 2015 Rochester Security Summit at the Rochester Hyatt in Rochester, NY.
Given the constant barrage of news about data breaches and the recent hack of Rochester-based Excellus BlueCross BlueShield, the message and event were timely.
Fasoo was part of a pavilion with security partners from Brite Computers, including Check Point, 2FA, CyberArk, Bromium, Varonis, Skyhigh Networks and ForeScout. These technologies helps companies discover, protect and manage the systems, networks and the data that is vital to their businesses.
Ron Arden delivered a presentation entitled "Closing the Threat Gap: A 21st Century Approach to Minimizing Risk" as part of the Threat Landscape track at the event. A number of attendees came up after the presentation and asked about protecting very sensitive documents in their companies. I spoke with a gentleman from a financial services firm who wanted to track specific types of data in spreadsheets. Some of this was generated by analysts entering data into the spreadsheet and some was downloaded from a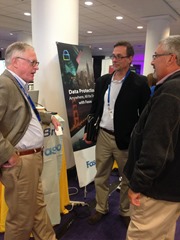 database. He needed to ensure that only certain people inside the company could access the data and wanted to make sure no one outside could get to it.
A few companies wanted to be able to track documents as they were shared with business partners. This was especially critical with healthcare companies, since many have business associate agreements (BAA) which are contracts between a HIPAA covered entity and a HIPAA business associate (BA). The contract protects personal health information (PHI) in accordance with HIPAA guidelines. Encrypting and controlling access to this data is one of the critical components of protecting it and a requirement in many of these contracts.
Brite sponsored a dinner at the Dinosaur Barbeque in Rochester overlooking the Genesee River. The food and drink were plentiful and many people stayed late and adjourned downstairs to the ample bar.
The event showed the growing need for data-centric security solutions as companies try to mitigate the risk of both external hackers and insider threats to their most sensitive data.