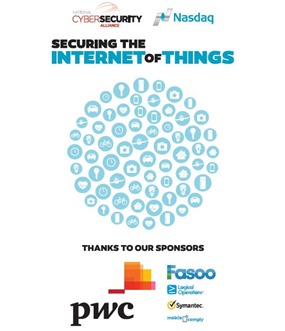 As part of National Cyber Security Awareness Month (NCSAM), Fasoo sponsored an executive luncheon put on by the National Cyber Security Alliance (NCSA).  The event at Nasdaq's headquarters in New York City on October 19, 2015 convened a group of industry experts for a discussion on a range of key issues on the benefits and risks for both consumer and commercial uses for IoT.  Executives from the public and private sector, as well as select members of the media, were in attendance.
Panelists are comprised of representatives from companies at the forefront of cyber security, including AT&T, BlackBerry, Cisco, PKWare and Symantec.  Sponsors of the event include Cisco, Fasoo, Logical Operations, Mobile Comply, Nasdaq, NCSA, PricewaterhouseCoopers LLP and Symantec.  Bill Blake, President of Fasoo, Inc., and Ron Arden, Vice President – North America, of Fasoo, Inc., represented Fasoo.
The Internet of Things has tremendous promise to bring intelligence into everyday activities and enable faster decision making.  This will bring tremendous automation to business and people's lives, but generate large amounts of data that will need to be stored and processed.  There are no clear guidelines, laws or regulations on securing data collected from things.  This event should highlight some of these challenges as organizations look to expand their IoT presence.
Estimates of devices collecting data range from tens of millions to over 10 billion.  Currently there is no federal law in the United States that protects the gathering of personal data, unlike the EU with the Data Protection Directive.  Gartner, Intel and others predict that over 100 billion devices will collect and transmit data by the end of the decade.  If the data is not protected and its access controlled, hackers and insider theft could violate privacy rules and potentially cause catastrophic damage.
Fasoo and other sponsors participated in the Nasdaq Closing Bell ceremony on October 19 which will help to raise awareness and underscore the importance of industry participation and collaboration on cyber security and how we all deal with the Internet of Things.
NCSA encourages all Internet users to follow the message of STOP. THINK. CONNECT. Make sure connected devices have security precautions, think about the consequences of the data being shared, and then connect a device to the Internet with more peace of mind.  It's important to understand what information is collected by these devices, who has access to it and how they are protecting it.  Thinking before acting is the best way to stay safe.