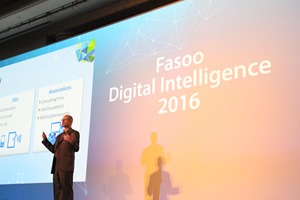 Fasoo successfully held its biggest event of the year, Fasoo Digital Intelligence 2016, on April 7, 2016 at the Ritz Carlton Hotel in Seoul, South Korea.  Over 500 attendees, including customers and the media, saw how Fasoo can help organizations enhance productivity and security when creating and sharing business information.  The theme of the event was Lead Digital as Fasoo showed how best to provide intelligence into an ever growing digital world.
During the day, Fasoo shared recent global security trends and provided an overview of new and updated solutions that focus on increasing and improving productivity and security.  Dr. Kyugon Cho, CEO of Fasoo, said, "When we make software that focuses on only security or productivity, neither is satisfied.  We must consider the current digital environment and security when it comes to developing software to include both productivity and security in our software at the very beginning.  This will be Fasoo's core philosophy in doing business."
Marcus von Engel, a PwC Partner, delivered a keynote address that focused on global security trends and how organizations need to become cyber resilient in these days of escalating dangers from insider threats and external threat actors.  Ron Arden, Vice President of Fasoo, Inc., shared recent success stories of Fasoo activities in North America.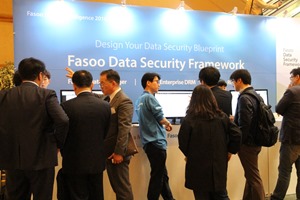 A key focus of Fasoo's strategy is the Fasoo Data Security Framework, a core set of intelligent security solutions to help organizations discover, classify, protect and manage unstructured data both inside and outside of a business.  Fasoo presented and demonstrated the framework and some use cases that showed how using data-centric security with people-centric policies provides persistent protection to sensitive data as you share it throughout your organization and with business partners.
Presenters showed new functionality of Wrapsody, a digital document platform which creates a more intelligent work environment.  Product management showcased capabilities that recommend related documents based on the analysis of usage data and achieve insight into work management based on usage logs.  This helps organizations understand how people are using documents and what interrelations those documents have with others used within the same or different departments.
Also during the event, DigitalPage announced the addition of some new functions such as dynamic view, 'leaving your footprint', and automatic page formation, which all leads to increasing productivity.  If you haven't tried it, click here to see how to simplify your digital life.
Fasoo introduced a distinctive solution named Analytic DID, which strives to secure personal information using big data and is designed to target the big data analytics market.  The project is being developed in cooperation with leading big data experts and helps de-identify information as organizations analyze market data in numerous industries, such as healthcare and financial services.
All in all, it was a very successful day as customers saw the latest solutions to help them become more productive and share information securely as the digital worlds of business and consumer continue to blur.