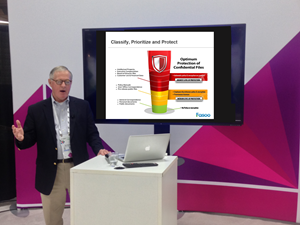 Bill Blake, President of Fasoo, Inc., spoke to members of the Western NY Information Systems Audit and Control Association (ISACA) at the Hilton Double Tree Hotel in Rochester, NY on May 10, 2016.  Bill delivered a presentation on "Closing the Threat Gap – A 21st Century Approach to Minimizing Risk" to this annual event and showed attendees how to use Fasoo's enterprise digital rights management to protect sensitive information from insider threats and external attacks by hackers.
Given the constant barrage of news on data breaches and cyber security incidents, the attendees were very interested in how to protect sensitive information in their organizations, since ensuring proper controls and managing risk are the main focus of this group.  One statistic that Bill shared was from the 2016 PwC Global State of Information Security survey which found that 81 percent of respondents attribute security incidents to existing staff, vendors and customers, with current employees the most cited source of incidents.  This was an eye opener for many, since most of us tend to focus on external threats.
A number of attendees came up after Bill's presentation and asked about print-related security risks.  This is an area that many companies don't think about since most of us focus on digital data.  One recent survey found that 70 percent of businesses admit to experiencing one or more print-related data breaches.  Most of these go unreported and according to the Identity Theft Resource Center, paper breaches seldom trigger state breach notification laws.
Auditors and risk management professionals are very concerned about meeting regulatory compliance, but also following internal audit and security rules.  There is always the issue of security versus compliance.  As one person mentioned, you can meet PCI compliance requirements, but still having a data breach.  A case in point is the major breach at Target in 2013.  The company met the requirements, but was still vulnerable and lost data.  As one of the speakers discussed, people are still the weakest element in security.  Just because you are compliant, doesn't mean you are secure.
Another major discussion area was using analytics to understand what is normal behavior in your organization, so you can determine what is abnormal.  There are weaknesses in controls around data access for many companies and it is challenging to separate the noise from the important details as IT and auditors review logs from security tools.  Organizations need to establish a baseline of normal data access and then look at how activities deviate from the norm.  This will help pinpoint insider threats as well as suspicious activity from compromised systems.
The event showed the growing need for data-centric security solutions as companies try to mitigate the risk of both external hackers and insider threats to their most sensitive data.