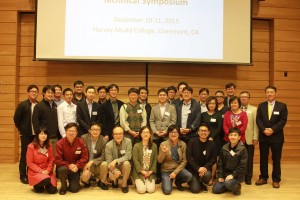 TJ Kwon, Vice President and CTO of Fasoo, Inc., participated in a Cyber Security session at the 16th KOCSEA Technical Symposium at Harvey Mudd College in Claremont, CA on December 10, 2015.  TJ's presentation was entitled "Fasoo, Security Framework for enterprise document security" where he discussed using the framework as the best way to protect and control sensitive documents from getting into the hands of hackers and other unauthorized users.
Fasoo was a sponsor of the event that brings together academic and industry computer scientists and engineers to discuss numerous technical topics that affect education, industry and government organizations.  The symposium also provided a venue that spurs collaborative research among industry and academic graduate researchers.
The Korean Computer Scientists and Engineers Association in America (KOCSEA) is a non-profit organization of Korean and Korean-American computer scientists and engineers in North America that promotes communication, information exchange and cooperation among its members and to provide opportunities for them to make contributions to computer-related fields in Korea and U.S.
Among the participants was a consulate general and a program director of the National Science Foundation (NSF), who focused on cyber security.  The event helped academics and industry colleagues understand the state of technology and some of the current and proposed research in cyber security and numerous technical fields.