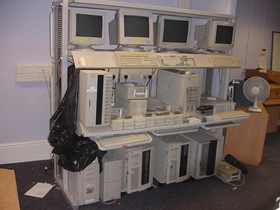 According to IDC, 80% of new commercial enterprise applications will be deployed on cloud platforms in 2012. Add to that the expectation that intelligent mobile devices will exceed "traditional computing" devices by almost 2 to 1 within the next 24 months and you have a very different world from just a few years ago.
Cloud computing is very hot and every major software, hardware and technology services company is trying to get into it. In some cases, vendors are throwing a web front end onto an application and calling it a cloud service. Many others are creating infrastructure for companies to run their own applications in the cloud or are providing complete business systems.
I was talking to a customer this week and the CIO said they are moving as much as they can to the cloud. Some will be public and some of it private. He said that a vendor would have a hard time getting a traditional server-based product in the door today. They don't want to buy anymore servers, capitalize them and go through a chargeback allocation process.
This all boils down to customers that want to shed hardware and save money with cloud offerings. If you look at acquisition activity related to cloud computing in the last year, it's off the charts. Here are a few from some major players.
Hewlett Packard acquired Hiflex (web-to-print systems), Autonomy Corporation (enterprise information management) and Vertica (real time data analytics).
IBM acquired DemandTec (cloud-based analytics), Sterling Commerce (channel relationships) and Cast Iron Systems (connect cloud to traditional software systems).
Salesforce acquired Model Metrics (mobile and social cloud capabilities), Navajo Systems (cloud security), Radian6 (social media tracking and analysis), Manymoon (collaboration and project management) and Dimdim (web conferencing).
Xerox acquired The Breakaway Group to help healthcare professionals easily access Electronic Medical Records.
SAP to acquire SuccessFactors (business execution) and Oracle acquired RightNow Technologies (customer experience and interaction).
The market is responding to customers who want to get rid of their own IT infrastructure and move their applications to a service provider's care. This doesn't mean giving up control. It means using more flexible options that allow you to meet market demands faster. With a challenging economy and workforces going up and down continuously, companies can't spend millions of dollars and years to implement business systems. By the time you implement some traditional, on-premise systems, the market has passed you by. You need flexibility in cost and deployment to address these concerns.
Most cloud or SaaS offerings are designed for a mobile user too. With more iPhones, Android smartphones, Blackberrys and iPads in businesses, cloud computing is a natural fit. People need access to information from anywhere at anytime and having applications that serve up that information in the cloud simplifies things. Today, I can sign a document, enter expenses, create and send an invoice, and even make travel arrangements from my phone. SaaS makes it easy through mobile apps or a browser.
As the mobile workforce grows and employees do business from anywhere and at anytime, cloud services make everyone more productive. We are close to a tipping point where more people will use mobile devices thatn traditional desktops.
Remember years ago when businesses starting replacing typewriters with PCs? It's time to replace your servers with cloud services.
Photo credit LeSimonPix