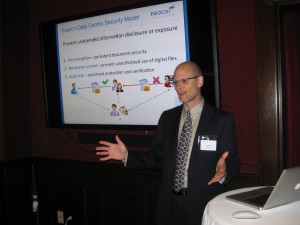 Ron Arden, Vice President and CMO of Fasoo USA, presented on August 21, 2014 at a forum in Indianapolis, IN on "Key Trends Changing How Organizations Share, Secure and Utilize Confidential Content and Data".  Sponsored by Fasoo, partner Neocol, IBM and Notable Solutions, the session provided business and technical leaders with an understanding of the challenges organizations face when trying to securely share content in our highly mobile and social media driven environment.  Mobile security is a major area of concern for many companies.
IDC forecasts that 1.3 billion people will be mobile workers by 2015, representing nearly 37% of the worldwide workforce.  With so many mobile devices accessing applications, the risk of data loss from insiders will be a challenge for any organization.
Justin Kline, Director of Solution Sales and Marketing for Neocol, led the discussions during the event on how to provide secure mobile access for content retrieval, next generation workflow and collaboration.  If you think of a typical day where you access your email and a few documents on your mobile device, you can probably think of how something sensitive could be lost.  You could accidentally email a file to the wrong person; Oops.  Or what about leaving your phone or tablet at a food court when you're rushing to catch a plane?
Attendees got a lot of good information on how leading organizations are safely sharing sensitive information with employees, business partners and other external users.  Today's workforce is highly mobile and capturing or accessing information from mobile devices is becoming the norm, rather than the exception.  While most organizations focus on hackers and other external threats, more are beginning to understand that employees and other trusted insiders are potentially a greater threat to an organization.  The risk could be from malicious exposure, but more commonly it's from accidental disclosure of information.
One question that always makes people a little nervous is:
"What would happen if your most confidential information was shared or exposed to the wrong audience?"
Ron talked about how Fasoo EDRM can protect sensitive information by controlling access and use at the data level through continuous encryption and persistent security policies.  A number of attendees were concerned about personally identifiable information (PII) getting into the wrong hands, since they deal with this in their organizations.  If you encrypt this information as soon as someone creates it or downloads it from a content repository or database, you don't have to worry where it goes.  It's always protected.  If you send a Fasoo protected file to a mobile device, the recipient can only access it if the you give them permission to do so.  If they forward it to another person, that person can't open the file if they have no access rights.  The same can occur if you use a mobile application to access files in a content repository, like IBM ECM or FileNet.  As soon as you access the file, the Fasoo security is applied to the file.  If your device was lost or stolen, the sender could immediately revoke access to the file.
While most companies think they are protected against external threats, many are not aware of the risks posed by trusted insiders using mobile devices.  Fasoo data-centric technology can reduce the risk of insider threats by encrypting and applying a security policy to files used on mobile devices.  Providing this control regardless of file location is the best way to eliminate these threats.