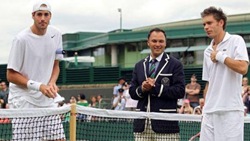 A few minutes ago concluded the longest and perhaps greatest tennis match in history. John Isner from the United States and Nicolas Mahut from France just finished an 11 hour marathon at Wimbledon. This match was played over 3 days. The final set was won by Isner 70 – 68. For those not familiar with tennis, that's 70 games to 68 games. The match broke every record imaginable.
What stands out more than anything for me is the mental and physical commitment and perseverance of these 2 men. Either of them could have given up at anytime, but they were playing to win. I think all of us can take lessons from this in our business lives.
When you are involved in a small business, startup or any venture, things frequently look dire. Will I make the next payroll? Can I afford to subscribe to that mailing service? Will any customers buy what I'm selling? Will a competitor put me out of business? Is this really a good idea for marketing? All of us have these questions, but we need to stay the course and move ahead. If you have a good idea for a business, product or marketing campaign, stick to it and execute. That makes all the difference in the world.
Isner and Mahut showed me today that a little physical or mental discomfort should not deter me from my goals. I know I have a good idea and will keep working at it until I win. There is of course the overused sports metaphor of "It doesn't matter if you win or lose, it's how you play the game." I believe in playing the game to win. I believe that my business and I will succeed and I will continue to believe that until I win. Good ideas alone won't make it, but good execution will. Thomas Edison famously persisted on his light bulb idea until he finally succeeded and won. It might take you a long time, as I saw with Isner and Mahut, but eventually one of them executed better and won.
Are you sticking to your ideas and executing?