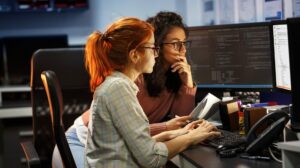 Fasoo, a leader in data-centric security, today announced an enhanced version of its Enterprise DRM (EDRM) to encrypt, protect, and control source code while allowing developers to use any development application and source code management solution and will be featuring it at the Black Hat USA this year, which is taking place in Las Vegas this week at Booth #1068.
"Software development is critical to driving innovation and growth in organizations, but working in a secure environment typically hinders productivity, forcing developers to change their workflow and tools," stated Ron Arden, Chief Technology Officer at Fasoo, Inc.  "Fasoo encrypts and manages all source code and seamlessly integrates with any coding program, application, and software configuration management system.  We ensure the development process remains secure, unhindered, and efficient."
Secure software development and management have become essential for organizations.  Still, conventional access control and network isolation techniques do not prevent code leaks or address malicious insider threats and external cyber-attacks.  Fasoo protects all source code regardless of location and development environment, providing persistent protection throughout the workflow.
For more information about Fasoo EDRM for Source Code Security, visit https://en.fasoo.com/strategies/source-code-security/.
Read the press release here.