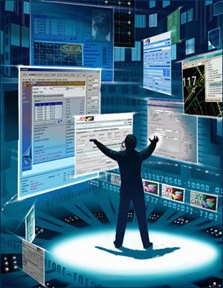 I just finished reading a book where the entire operations of a financial company are digital.  "The Fear Index" by Robert Harris is a thriller that combines the world of hedge funds with an algorithmic trading program that becomes autonomous.  The financial company uses no paper in its operations.  In fact no paper products or anything related to them are allowed in the offices.
There are no magazines or newspapers in the reception area.  It is company policy that as far as possible, no printed material or writing paper of any sort should pass the threshold.  They came up with a clever incentive to ensure this.  Each employee is required to pay a fine of 10 Swiss francs each time they were caught in possession of ink and wood pulp rather than silicon and plastic.  Violators would have their names posted on the company intranet.
It's amazing how effective this was in changing behavior.  They also realized that they couldn't control if their visitors carried paper, but it was very evident from the lack of paper in the office, that it was frowned upon.
The company had its rubric as a screensaver on every computer in its office.
THE COMPANY OF THE FUTURE WILL HAVE NO PAPER
THE COMPANY OF THE FUTURE WILL CARRY NO INVENTORY
THE COMPANY OF THE FUTURE WILL BE ENTIRELY DIGITAL
THE COMPANY OF THE FUTURE HAS ARRIVED
This might sound like a dystopian future or a dream, but I think many companies are there today or well on their way.
In 1999, Bill Gates wrote a book called Business @ the Speed of Thought where he discussed how a Digital Nervous System would integrate business processes with technology.  One of the things it preached was the paperless office and how the Internet and computers would effectively change the way everyone does business.
Let's take a look at where we are in this brave new world.  According to IDC, manufacturers shipped about 1.5 billion mobile phones and 67 million tablets in 2011.  Tablet sales are expected to increase to 326 million by 2015 according to Gartner.  On April 24, 2012, Apple announced a 94% increase in earnings for the quarter with IPhone sales at 35.1 million units, up 88% from a year ago.  Apple sold 11.8 million iPads, up 151% from a year ago.
After 244 years, Encyclopedia Britannica will cease production of its iconic multi-volume book sets and go all digital.  The Baltimore Ravens and the Tampa Bay Buccaneers moved their playbooks to Apple iPads last season and more NFL teams announced plans to do the same this year.  Alaska Airlines and American Airlines replaced their flight manuals with iPads.
I just have too look at my own life to realize that most business is done digitally.  I haven't looked at a paper map in years.  I either use Google maps from my iPad or my laptop – sometime I use a GPS in the car.  I do all my bill paying electronically.  I purchase things online.  I read all my news online.  All my invoices are sent electronically and I get paid through bank transfers.  I use an electronic boarding on my phone when I fly.  The only reason I use paper is because someone else is still using it as part of a business process.  Even then, I scan the paper documents and put them into an electronic workflow to get rid of the paper.
My whole business runs electronically and a lot of it is in the cloud.  I use DocuSign to sign contracts and any document needing a signature.  I can take any electronic document and in minutes turn it into an electronic workflow.  I can sign it with my iPad, iPhone or laptop and complete the entire transaction in a few minutes.  I use Dropbox to share presentations, reports, videos and training materials with numerous customers and business partners.  I use Evernote to share interview notes and general strategy information.  I share business and personal information on Facebook, Google +, Flickr, YouTube, Pinterest, Twitter and LinkedIn.  No matter where I am I can access business information on any device.  It's all digital and its in the cloud.
This past Sunday April 22, 2012 was Earth Day.  Thinking about ways to conserve our natural resources was one thing on my mind as I thought about this topic.  Eliminating paper from business is one way to save trees and water.  It also keeps toxic chemicals out of the air and ground water.  And it's good for business.  No matter how you look at it, doing business digitally is faster and far more efficient than anything we have ever experienced.  The future is here and we are living it.
The autonomous program in "The Fear Index" gave a chilling but possibly realistic view of where things may be headed.  After it took over (you have to read the book for all the fun), it put up a new screensaver on all the computers.  The last two lines are:
THE COMPANY OF THE FUTURE WILL BE A DIGITAL ENTITY
THE COMPANY OF THE FUTURE WILL BE ALIVE
Photo credit Big Game Hunter