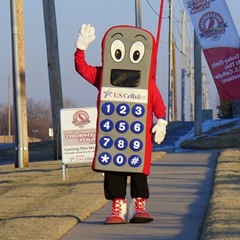 As the holidays wind down for 2012 and we spend time with our families, many of us will use our mobile phones and tablets for everything. According to recent research by Gartner, businesses and consumers will buy about 1.2 billion smartphones and tablets in 2013 to add to what's already out there. We all use mobile devices because they are convenient and provide fast access to information. They are convenient for accessing documents, searching for information, and communicating with everyone. Just look around the next time you are in a store or mall. Everyone is clicking on something.
The use of mobile devices has exploded as more employees want to use their own devices at work. This has become a nightmare for some IT departments as they try to provide convenience and still keep corporate information secure. Rather than fighting the trend, many organizations are creating bring-your-own-device (BYOD) programs that embrace employee-owned devices. BYOD policies govern mobile device usage while maintaining a secure computing environment.
The use of cloud computing has increased as more people use mobile devices. Accessing information in the cloud is easy from a smart phone or tablet, since a lot of apps go there by default. It's also easy to synch information between multiple devices. Using cloud-based collaboration tools like Dropbox and Box makes it easy to share documents with anyone, but can be risky if you put confidential information into them. It's great to pull up a spreadsheet or proposal on your iPad, but if you accidentally send it to the wrong person, you could be in big trouble.
Organizations use perimeter and device-based security to control who can access documents on mobile devices. That works well as long as the information stays in one place. As soon as you copy it into Dropbox, all that security evaporates. The document is out of your control, since anyone with access to the Dropbox folder can copy it and send it anywhere. You could be risking identity theft if the wrong document got into the wrong hands.
Rather than focusing on the device, focus on the documents themselves. Securing a document using a data-centric security approach helps prevent inadvertent access to your information. You control who can open a document and if they can edit, print or even copy information from it. If they aren't authorized to access it, they have a bunch of useless bits.
By controlling access to the document, you can safely put it into Dropbox or any other cloud location or service. No matter where it goes, you are still in control.
Sharing documents through cloud-based services is convenient and its use is increasing. Before you copy a document to the cloud, lock it down with a persistent security policy. You'll sleep better at night.
Photo credit KB35