This morning I woke up and found a message from my daughter on our Upwords game.  If you aren't familiar with it, Upwords is like Scrabble, but you can also stack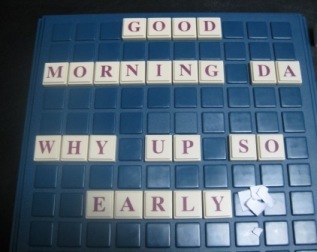 letters to make words; my family is addicted to it.  My daughter and I started doing this a few days ago.  I thought with all the high tech ways we have to communicate, sometimes its fun to do things low tech.   We are still getting across the information we want to convey.  It's easy to do and keeps me interested because I can't wait for the next message.
Shouldn't all our communication be like this?  When I write a blog post or send out an email newsletter or deliver a document that gives someone information, they should anticipate the next message.  With all the blather on the Internet and in our lives, sometimes a unique, fun message can give you what you need.  And if spelling out letters on a game board does the trick, why not?  Sometimes simpler is just better.
My daughter and I have started referring to the Upwords board as the Ouiji board.