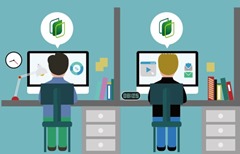 When someone mentions "document management system" in a conversation, what comes to mind immediately is a system that tracks, manages, stores documents and reduces use of paper. You know; the systems that keep a record of the various versions created and modified by different users with history tracking. The ones that have overlapped with the concepts of content management systems (CMS) or enterprise content management (ECM). The ones that have become part of other systems like records management systems, document imaging systems, digital asset management systems and the like.
The next thing that comes to mind is the challenges with these systems. Enterprises find it difficult to collaborate without giving up the security needed to protect precious digital assets. They also find it to be a daunting task to locate and manage documents; whether the enterprise uses document management, content management or File Sync & Share solutions.
So, what might an Intelligent Document Management solution look like to address current enterprise concerns you might ask. One that combines file-centric collaboration, digital asset management and security. Here are some key features to look for in such a system:
•  File-centric management: A unique document ID for identification and version number that would mitigate issues around users working on the wrong version of a document while reviewing or sharing with others.
•  Instant Version Control, Backup and Restore regardless of file location: One of the key challenges is the inability to do version control "on-the-spot" for individual files. This is due to the fact that version control process is done within repositories. A better approach would be to extend version control to a rendering application which would give and enterprise much more flexibility, since now location becomes irrelevant.
•  On-demand Sync and Share regardless of file location: When users pull files out of repositories, localize them and then open them on a desktop or mobile device, they must be absolutely confident that they have the latest version to work with. It is imperative that when files are created, or updated that all users permissioned to use the files are given notifications with a download link to the relevant version.
•  User comments related to files: It is important that users add comments when creating, revising or reviewing documents for a better collaborative effort. Whether these comments are about the history of changes or why changes were made or simple notes for collaboration, this type of a feature would provide means to a workflow decision process in the document history.
•  Usage Analytics: It is important that the solution provides real-time user status and activity related to a file such as ability to review file assignments, who has read or unread them. It is also of importance to have a graphical map showing derivations of documents.
•  Access Control, Security and Audit Trail: Control and audit wherever the document has traveled is another important feature. File owners can secure and control definition and assignment of user permissions with revision access, view only access or no access at all. If desired, an Intelligent Document Management solution should also provide file at use security incorporating digital rights management for enhanced security.
Rather than relying on separate systems for managing documents in an enterprise environment, an Intelligent Document Management system combines file-centric collaboration, digital asset management and security together to bind documents with metadata – all the time and anywhere to meet the demanding needs of current times.