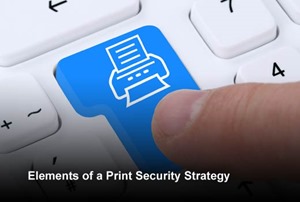 As we do business on our smartphones and tablets, most of us think that printing is a thing of the past, yet more than three-quarters (76 percent) of organizations indicate that printing is critical or important to their business activities.
With all the focus on digital communication, many organizations may ignore the security risks posed by allowing anyone to print anything to any device.  In fact about 70 percent of businesses indicated they experienced at least one print-related data breach in the past year.  That number may be higher, since many organizations do not know if a data breach has occurred.  Understanding the vulnerabilities and risks posed by unmanaged printing environments is the first step toward closing the threat gap.
IT Business Edge has published the slideshow, "5 Components of an Enterprise Print Security Strategy", that highlights five essential components for an enterprise's print security strategy and how Fasoo can help securely manage printed documents.
Having a print security plan can minimize the risks of paper-based data breaches.  It can restrict printing if you try to print sensitive information and require user verification before releasing a print job.  Add dynamic watermarks to any printed document and you can easily trace the source of any printout.
View the slideshow and see how you can minimize print-related data breaches.