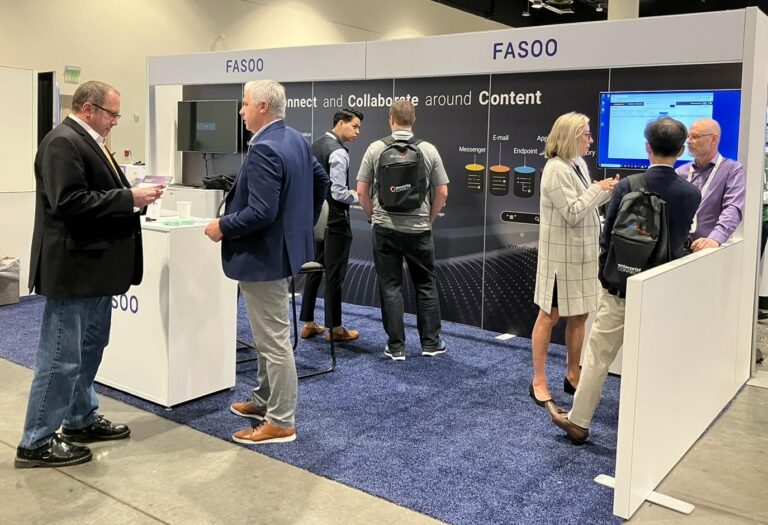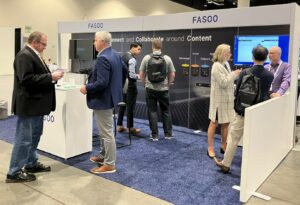 Fasoo demonstrated how Wrapsody (Enterprise Content Platform) and Wrapsody eCo (Secure Collaboration Platform) could help eliminate data fragmentation issues through its content virtualization technology at Enterprise Connect 2023 from March 27 – 30 in Orlando, FL.  This allows users to control data consistently, maximizing productivity.
Content virtualization does not rely on the location of your document to manage it.  Contrast this with traditional document management and file-sharing systems, which rely on a location.  Fasoo always provides up-to-date content regardless of document location.  As soon as a user opens a document, they have the latest version.  Visitors to Fasoo's booth liked the idea of a better way to manage their content since a common question from users is "Do I have the latest version of my document?"
While a lot of focus at this year's event was on artificial intelligence, many were talking about managing documents and the emerging risks and security threats as organizations collaborate.  Content virtualization ensures that users always have access to the latest document and security enhancements ensure only authorized users can open it.
Unlike conventional file-sharing and communication services, users can work across multiple collaboration tools while preserving consistent file security and visibility.  This lowers internal and third-party risk by maintaining access and control to shared data, including remotely expiring access at will, regardless of the data's location.  This helps integrate fragmented data to further increase the utilization and productivity of existing systems.
With a lot of hybrid workers using new and enhanced communication and collaboration tools, working in a single platform that allows communication around content is easier for users.  Adding document chat and comments makes it easier to collaborate in one place, including in a browser.
It's also important to layer security on your documents as you share them.  AI-powered tools help communication, but there is still a risk when sharing content.  Mitigating this risk is essential whether users are in a call center, working at home, or in the office.
During the course of the conference, a lot of attendees and analysts came to the Fasoo booth to understand how to break through the problems of traditional file shares and document repositories.  While those systems are great for organizing information, they are challenging when users have to collaborate outside the system and move files from the repository to the desktop to email and to the cloud.  Tracking and managing documents regardless of location and ensuring that everyone has the current version is a constant battle that affects productivity, governance, and security.  Fasoo simplifies this by bringing the process down to the file level and automatically synchronizes files as users create and work with them.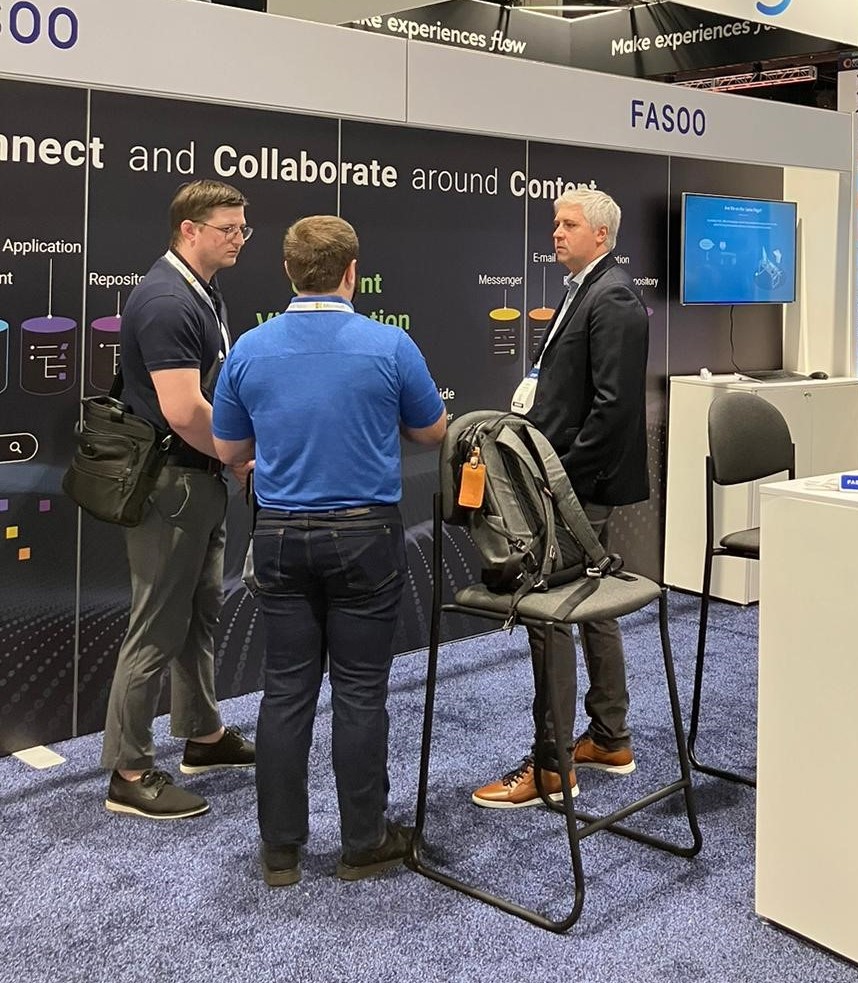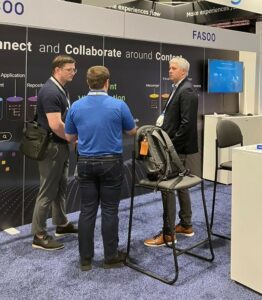 A number of attendees were also interested in how Fasoo can provide more granular permission controls for those scenarios that demand greater security.  When a user creates a document, the user assigns View or Revision permissions to those people that need to access the document.  The document is encrypted and allows collaboration throughout the organization and beyond.  A user can grant permissions to further control an authorized user's ability to Print, take a screenshot, or extract data to an unprotected environment.  One visitor commented that she liked that flexibility since some documents are more sensitive than others and will require greater control.
With companies trying to improve productivity and comply with numerous regulations, like CCPA and GDPR, Fasoo provides access control and an audit trail wherever the document has traveled.  Document owners, department heads, and security administrators can see how each document has been used through a graphical dashboard.  Since documents are always protected and tracked, regardless of location, complying with new regulations is a lot easier.
A key to security and compliance is minimizing the data you have.  If you don't have it, you don't have to manage it.  Wrapsody can minimize ROT (redundant, obsolete, and trivial) data with unknown or no business value with its AI and ML-based content visualization.  This reduces your threat surface and makes it easier to access the content you need.  One CIO liked the analytics since he said that understanding what information he has and who is using it is a major challenge to security and data governance.
Fasoo provides content-centric communication and security tools to simplify and enhance collaboration as businesses grow.  The key is a unique, persistent file ID that follows a document and allows secure sharing, distribution and tracking, and version control at the data source across all locations.  It allows organizations to address issues from risk management to business performance.
Of course, no event would be complete without refreshments on the exhibit floor as we hit the evening hours.  Between the salsa and chips, great desserts, and some choice beverages, it was great to relax and do a little business at the same time.  Having a drink and walking outside to the warm Orlando weather was a treat for March.  It was a nice balance with the main conference.