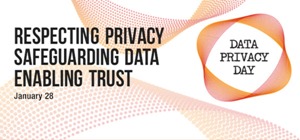 Fasoo attended "The State of Privacy" event at The Pew Charitable Trusts in Washington, DC on January 28, 2016 as part of Data Privacy Day. The luncheon and event was sponsored by the National Cyber Security Alliance (NCSA) to help raise awareness and dialogue on managing privacy in the US and internationally.
On January 27, 2014, the 113th U.S. Congress adopted S. Res. 337, a nonbinding resolution expressing support for the designation of January 28 as "National Data Privacy Day."  Respecting Privacy, Safeguarding Data and Enabling Trust is the theme for Data Privacy Day (DPD), an international effort held annually on January 28 to create awareness about the importance of privacy and protecting personal information.
As the state of privacy continues to evolve it's becoming more mainstream with increased awareness and changing expectations from consumers and business. This event brought together leaders from numerous organizations in partnership with the Computers, Privacy and Data Protection Conference to have a practical and solutions-focused dialogue addressing the current state and future of privacy.
The first panel discussed some results from the U.S. Consumer Privacy Index 2016 survey from NCSA and TRUSTe that asked consumers about how their private data is handled.  According to the research, consumer privacy concerns are rising with 68 percent saying a top concern is not knowing how their personal information is collected online.  There was a debate on who is responsible for privacy.  Does it fall on businesses to simplify the process for consumers in an app, for example, or is it good enough to educate users on how to protect themselves through the appropriate settings in an app or browser.
Discussions , compared with only 57 percent who ranked losing personal income at the top. Additionally, 45 percent of respondents are more worried about their online privacy than they were just one year ago; and 37 percent of respondents listed companies collecting and sharing their personal information with other companies as a top cause of concern.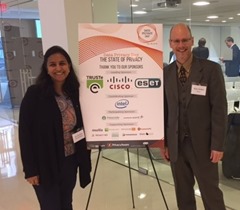 During the day, Bill Blake, President of Fasoo, Inc., and Ron Arden, Vice President – North America, had some great conversations with business leaders, analysts and media on the state of privacy, technology and how best to help protect privacy through best practices.  Awareness of privacy issues is the first step in understanding how to protect yourself and your most sensitive information.
The afternoon event had a transatlantic panel with members in the US and in Brussels talking about sharing data between the EU and US and how big data is impacting privacy in numerous ways.  One example is that analysis techniques will generate new data and what is the best way to protect and control it.
Fasoo solutions can help in this area by protecting sensitive data, including personally identifiable information (PII) and protected health information (PHI), both of which are under attack from advanced persistent threats and trusted insiders.  As privacy and security issues continue to impact business, Fasoo will continue to be an advocate and proud sponsor of NCSA activities and events that help organizations improve cyber security and protect privacy.