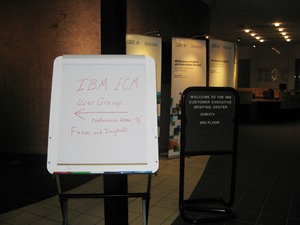 Bill Blake, President, and Ron Arden, Vice President and CMO of Fasoo USA, presented on December 9, 2014 at the quarterly Ohio IBM Content Manager User Group (OHCMUG) in Columbus, OH on "Defending the Enterprise Against Insider Threats".  Fasoo partner The Dayhuff Group hosted the quarterly forum at the local IBM office.
The meeting focused on how an Enterprise DRM solution can offer customers security over their intellectual property and sensitive information.  Along with Bill and Ron was a summary of key topics covered during this years IBM Insight conference, given by Dayhuff Group's, Casey Wiggins.
Bill focused on the problems of malicious or accidental disclosure of confidential information by trusted insiders as a major threat to any organization.  This includes employees, contractors, consultants and business partners that have access to sensitive information.  Bill talked about the value of a stolen healthcare record being around $50 on the open market, since criminals can use it to commit fraud.  Compare this to a stolen credit card number which is worth about $.01.  With the recent data breach news from healthcare organizations, financial institutions and many others, it seems that it's just a matter of time before every organization suffers a loss.
Ron talked about how Fasoo EDRM can protect sensitive information by controlling access and use at the data level through continuous encryption and persistent security policies.  A major focus of this discussion was how Fasoo can protect files as users download them from IBM ECM products, including Content Manager and FileNet.  He presented two case studies that illustrate how Fasoo customers have met these challenges.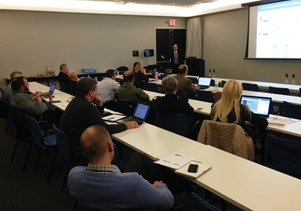 Ron demonstrated Fasoo EDRM showing the group how users can protect files as they create them and ensure only authorized users can access them.  One of the attendees asked about extending Content Manager files to mobile devices, since many users frequently need access to information while traveling.  Ron mentioned a customer who shares files downloaded from CM8 with Android and iOS users easily and can even restrict access to files already downloaded.
Casey Wiggins, from Dayhuff, talked about updated products coming from IBM that will enhance and simplify the experience for users of content management systems.  Casey talked about the new IBM Content Navigator (ICN) v2.0.3, which is an HTML-based interface that will unify the content access experience.  It allows a user to access information from FileNet P8, CM8, CMOD and even non-IBM systems, like Microsoft SharePoint, through a single user interface.
The meeting wrapped up with a great Q&A session and adjourned to a local eatery for some food and drinks.  During the Q&A, a number of participants described how they have been looking for a solution to their concerns about exposing sensitive information within and outside of their companies.  They agreed that they have a good security against external threats, but are worried about risks posed by malicious or accidental behavior by employees, contractors and other trusted insiders.  They felt that the Fasoo data-centric technology could help them mitigate this risk when sharing files created locally and those downloaded from IBM ECM and other content management systems.