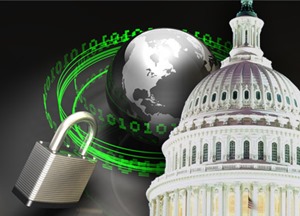 As 2017 gets underway, cyber security legislation will strengthen and force businesses to change the way they approach information security.  At the federal level in the United States, the US Congress and President have proposed numerous updates to existing regulations and new regulations to cover all facets of cybersecurity.  These include the Cyber Preparedness Act of 2016, Cybersecurity Systems and Risk Reporting Act and others.
At the state level, legislation was introduced or considered in at least 28 states in 2016. Fifteen of those states enacted legislation, many addressing issues related to security practices and protection of information, and cyber crimes in general, including dealing with rasomware.
One example is the new regulation by the New York State Division of Financial Services (NYS-DFS) that goes into effect on March 1, 2017 (changed from January 1) that requires organizations registered as banks, insurers, and other financial institutions in the state to implement comprehensive cyber security programs and policies.  The first bar is to encrypt nonpublic information at-rest and in-transit.  This includes confirming a third party service provider's adherence to these enhanced data security requirements.  Covered entities have to certify they meet the first set of requirements by February 15, 2018 and annually after that.
Other key requirements of the NYS-DFS cybersecurity regulation and others is to maintain audit trails of sensitive data, including logs of access to critical systems.  While it is important to understand who can and has accessed an information system, it is more important to control and audit the access to the sensitive data inside.  Encrypting documents and controlling who can access them regardless of the user's or file's location is key to protecting sensitive data and meeting these regulations.  This ensures that only authorized people inside and outside of the organization can access the information.
One thing to remember is that most regulations prescribe the minimum an organization must do to comply.  As we have seen in recent years, complying with a regulation does not mean you are safe and your data is secure.  You need to think about protecting, controlling and monitoring all sensitive data inside your organization to ensure you meet regulations but also that you maintain your business.
It is clear that regulators and legislators are focused on raising the bar for cybersecurity programs and to ensure the public that nonpublic information remains private.  Organizations need to focus on developing a robust risk-based cybersecurity program rather than reactively responding to regulatory guidance.
The time is now to enhance your data security to meet new regulations and protect your business.