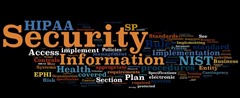 How many more data breaches can patients take? This could ultimately be the question based on last year and this year's surge of healthcare data breaches. Once again, the personal health information of 3,000 people was leaked after a data breach at a Georgia program that offers services for seniors. The breach included the health diagnoses of people in the Community Care Services Program.
What was the cause? An email was mistakenly sent to a "contracted provider".
We are all but too familiar with this kind of data breach. An insider not malicious, but nevertheless, accidently sends the sensitive data to wrong person, is one of the main reasons for these data breaches. Back in March 2015, an article at that point the Anthem and Premera data breaches had just occurred, and we were worried at that time as well. Four months have passed and the numbers are not slowing down.
In a recent study by the Ponemon Institute, a shockingly high 91 percent of respondents reporting falling victim to at least one data breach in the last two years. The majority of respondents had suffered 11 or more incidents. However, the main reason for that report, and what healthcare organizations should of realized is not that this industry has failed in the realms of data security. It should be that these organizations should now, even right this minute, take the necessary steps to securing and encrypting their data. More and more laws are being put into place, and those in violation of not abiding by these laws to secure customers' data will result not only in loss of customers, but hefty fines.
Unfortunately, even at a time where legislation is making the push for these laws to encrypt all data, there was a recent announcement by UCLA Health System, and now the data breach has affecting over 4.5 million people. The stolen data was totally unencrypted making the threat to the people whose data was in the UCLA Health Systems computers more serious. But then again, as we just mentioned it is not too late to make the decision to secure the data.
How do we secure that data? Well, using a multilayered approach to information security that focuses on the data rather than the perimeter is a more effective way to deal and mitigate these threats. A data-centric security model with people-centric policy allows you to implement effective file-level security policies and granular permission controls for all kinds of data no matter where they are.
Here are some advantages from a previous blog, but still applies to providing a data-centric security approach to protecting your sensitive information:
· Encrypt PHI (Protected Health Information) to meet HIPAA and new data protection legislation
· Secure files downloaded from heath information systems
· Control who can View, Edit, Print and take a Screen Capture of protected documents
· Dynamically control who can access the file
· Trace and control user/file activities in real-time
· Scan files to identify PHI and apply security policies automatically
Protecting your patient's information ensures you meet healthcare regulations and ensures patient confidentiality. Reduce the risk of HIPAA violations and PHI exposure in a time where healthcare data breaches alone are reaching record numbers in 2015.
Photo credit by: Purple Slog